Donald Trump called the mayor of Tangier Island, a tiny Chesapeake Bay community of just 450 residents, to thank the mayor and his community for their electoral support and to reassure him that the island isn't going anywhere, the Washington Post reports. Tangier is losing approximately 15 feet of coastline per year (it's now only 1.3 square miles); a widely cited 2015 study estimated that without intervention, the community will need to abandon the island within 25 to 50 years.
According to Mayor James "Ooker" Eskridge, the Post reports, Trump caught wind of a recent CNN report in which Eskridge was quoted as saying "Donald Trump, if you see this, whatever you can do, we welcome any help you can give us," and later "I love Trump as much as any family member I got." From the CNN report:
Eighty-seven percent of the island voted for President Trump. It doesn't bother them that he pulled out of the Paris climate agreement. The residents on Tangier look at the decision as more money it will free up to help them build the infrastructure they need to save their island.

When I asked people their thoughts on climate change, everyone had the same answer. They said it doesn't matter what's causing it. They are sick of hearing debates about human-caused or natural cycles. They want people to open their eyes and see what's happening to Tangier.
According to Eskridge, Trump thanked him and the entire island for their support in the 2016 election and then reassured him that the island was, contrary to the literal facts on the ground, not going anywhere. From the Post:
"He said we shouldn't worry about rising sea levels," Eskridge said. "He said that 'your island has been there for hundreds of years, and I believe your island will be there for hundreds more.'"

Eskridge wasn't offended. In fact, he agreed that rising sea levels aren't a problem for Tangier.

"Like the president, I'm not concerned about sea level rise," he said. "I'm on the water daily, and I just don't see it."
G/O Media may get a commission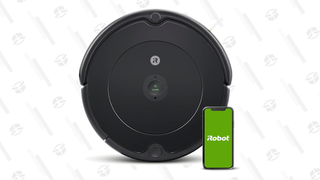 35% Off Black Friday Deal
iRobot Roomba 694 Robot Vacuum
Eskridge and Trump reportedly agreed that erosion was the main issue (sea level rise causes erosion), and Trump, according to Eskridge, invited him to discuss it next time he's in D.C, the idea evidently being that Trump will lift the island above the encroaching tide like some babbling orange Atlas. The Post notes that Trump's budget proposed ending federal funding for the Chesapeake Bay Program, which aims to restore the ecosystem relied upon by Tangier's fishing industry.
Tangier Island was a summer destination for the Pocomoke Indians before John Smith first explored the island in 1608. Descendants of the original settlers remain on the island, where they make a median income of $40,000 and still speak in an accent New York Times Magazine described as a "Colonial-era Cornwall patois wrapped inside a Virginia twang." The island is disappearing thanks to a combination of sea level rise—from thermal expansion and glacier/ice cap melt caused by rising global temperatures—and a number of other unlucky factors, including the island's vulnerable location in the middle of the bay and the land itself, which, like most of the East Coast, is already sinking (for various geological reasons that I'll let Scientific American explain to you here).
And as New York Times Magazine explored, vulnerable communities like Tangier will be competing with cities like Philadelphia and Washington, D.C. itself for limited federal funding to protect populations from the rising sea. Trump applied for a sea wall last year to protect his seaside golf resort in Ireland, explicitly citing global warming; publicly, however, it appears that his administration will continue to test the limits of its Orwellian relationship with the truth.