Trump had a quiet day, a good sign or a bad sign? Only time will tell...
Here's all the shit we couldn't cover today:
Here's a list of 14 Jewish Community Centers across the US that received bomb threats today. [ABC 7] And in Philly, hundreds of Jewish gravestones toppled. [ABC] Trump has been in office for one month.
The White House is expected to support an investigation into the death of Navy SEAL William Ryan Owens, an inquiry demanded by his father, who also reportedly refused to meet Trump when Owens body was returned to the US. White House press secretary Sean Spicer said in a briefing Monday there will probably be three investigations; one into Owens' death, one into the death of civilians, and one into a wrecked helicopter which was left behind. [Washington Post]

Donald Trump gave an exclusive interview about the Oscars to Breitbart, you're welcome to find the link yourself.
Should you ever feel like giving up, remember one thing—plagiarist Benny Johnson still has a job. Wonder who gave him this tasty exclusive... [IJR]

Marco Rubio says town halls used to be fun and blames the liberal activists for ruining them. They're "not town halls anymore," he told CBS4-Miami's Jim DeFede. "And I wish they were because I enjoy that process very much." [CBS Miami]

The Supreme Court today entertained debate over whether North Carolina may ban sex offenders from using certain social media sites like Twitter and Facebook. The court seems likely to allow the law to stand, citing social media as a "marketplace of ideas," god help us all. [New York Times]
Virginia governor Terry McAulife says "I don't know, I might" want to be president. It's nice to want things. [New York Times]

Donald Trump, who claims he was spared from the Vietnam draft because of his "bone spurs," complained today that everyone used to say "we never lost a war" when he was in high school and college and now no one says it. [MSNBC via @braddjaffy]
It's just a report, so who knows what could happen, but apparently both Hillary Clinton and Michelle Obama have passed on joining the cast of Dancing With the Stars. [UPI]
The Department of Justice has changed its mind and no longer believes Texas's voter identification law is discriminatory. Jeff Sessions, himself a long-time fan of voter suppression, had the distinct honor of delivering the news to the state of Texas and the various civil rights groups who had been working with the Obama administration on the case. [Texas Tribune]
Here are some tweets that the president was allowed to publish:
This has been Barf Bag.
G/O Media may get a commission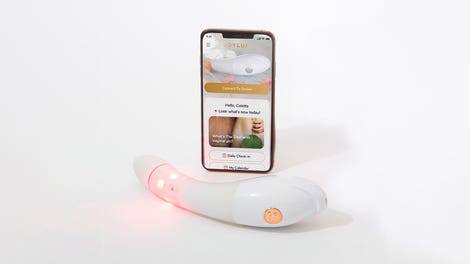 $50 Off
Joylux vFit Gold Device