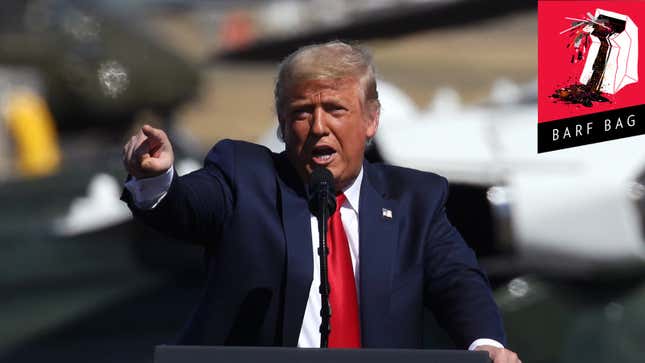 Donald Trump had a very bad evening last week, courtesy of NBC's Savannah Guthrie who moderated his ill-advised town hall and in the process tore him a new one. Trump, of course, was very unhappy that of all people, it was a woman who asked him some tough questions and made him sweat, calling Guthrie "totally crazy" afterwards.
And now, as we stare down the barrel of the final debate, which will take place on Thursday assuming all goes as planned, Trump has decided to debut his misogynistic attacks against the moderator, NBC's White House correspondent Kristen Welker, in advance of the debate itself. On Saturday, he called Welker "terrible & unfair, just like most of the Fake News reporters." And on Monday, during a campaign rally in Arizona, Trump described Welker as a "radical Democrat" and a woman who's been "screaming questions" at him "for a long time." He then brought up Guthrie again, whom he said was "like a crazed lunatic, literally rising out of her chair screaming questions." Can you believe these women, doing their jobs? The affront!
Denigrating women journalists is, as we all know, a very smart move as part of a broader strategy to win back the suburban white women voters who are fleeing from you.
According to Axios, Trump's campaign advisers are telling him to "try to be more likable" during Thursday's debate, to which I respond, hahahhahahahhahahahahahhahahahhahahahahhahahahahhahahahhahahahahhahahhahahahahhahahahhahahhahahahahhahahahha.
---
Breaking news: Fox News briefly remembers the basics of journalism, just as quickly goes, LOL whatever.
---
And here's a little voting inspiration to end your day. Boston, good?!? The answer is hell no, but at least one good woman lives there!