Donald Trump, a snot-flavored Jelly Bean gaining a frightening amount of power and influence, has had a curious reaction to the ghastly terror attack in Nice, France. One the one hand, he postponed announcing his vice presidential pick; on the other, he went ahead with a giant fundraiser in Bel-Air. Who knows? Acting presidential is hard.
Lots of speculation and leaks from the Trump Kingdom Thursday indicated that he's picked Indiana Governor Mike Pence, whose main claim to fame is his signing of some uniquely terrible anti-abortion laws. Pence is currently staying in a Manhattan hotel, having arrived last night. He's probably just checking out the M&M store.
After the attack, Trump abruptly said that he would push back a planned Friday announcement:
But, in true reality TV fashion, there's also some indication that Trump, besides being shaken by yet another hideous loss of innocent lives, was simply irritated that everybody's spoiling his big announcement:
G/O Media may get a commission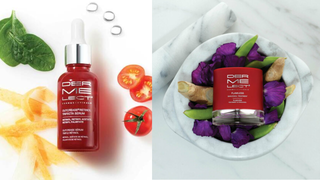 Save $19
Retinol Renewal Kit
Trump spent last night at a fundraiser hosted by Carla Sands, widow of real estate mogul Fred Sands, where people paid at least $2,700 to eat "pan-seared salmon and fresh fig salad" with Trump, per the L.A. Times.
While there, he continued to focus on his big big surprise:
After the massacre at Pulse Nightclub, both Trump and Clinton cancelled planned fundraisers. And while there isn't one right way for Trump to behave following an attack in another country, there is some, well, indication that he just hasn't quite finished his homework. He claimed, for example, that he and his running mate were going to be on 60 Minutes on Sunday. But 60 Minutes, as CNN pointed out, airs reruns in the summer:
But on Thursday night, speaking with O'Reilly, Trump said that "in light of what's happened tonight" in Nice, "I'm not so sure that I'm feeling good about doing 60 Minutes and I'm not sure that 60 Minutes is going to want to do anything other than this attack."

In fact, 60 Minutes normally runs repeats during the summer months, and doesn't react to the day-to-day news cycle. The potential Trump ticket interview on Sunday night would be a deviation from the norm.

A CBS News spokeswoman said Thursday night that it had no Trump interview to announce.
There's something uniquely unsettling about watching Trump try to navigate how to act statesmanlike. But when all else fails, I guess, he just goes back to what he knows.
---
Photo via AP