This morning, in the far West 60s in Manhattan, crews set to work removing signs from the row of high-rises previously known as Trump Place. Like so much else of president-elect Donald Trump's commercial and cultural footprint, the buildings were not really his work. He had tried and failed to develop that stretch of Riverside Boulevard, then surrendered the funding and building efforts to other, more competent developers, who kept Trump as a brand name and figurehead, in the belief it would enhance the value of their properties.
That era and its assumptions are over now. Donald Trump has become both more and less than he was then. He is on the brink of being declared the most powerful person in the world, but his brand—his quintessence, the theoretical basis of most if not all of the billions of dollars he claimed to be worth—is, for its old purposes, poison. After weeks of petitioning and protest from residents of Trump Place, Equity Residential, the company that owns the buildings, agreed yesterday to take down Trump's name.
In keeping with the Trump aesthetic, this involves a lot of signage—on the building facades overlooking the Hudson, on their back sides on the little street called Freedom Place, on their canopies. Most of it is brass. Before the changeover, it was not uncommon for the blocks to be pungent with the smell of metal polish, as building staff worked to keep the Trump name gleaming.

A line of preschoolers, from one of the several private preschools housed on the ground floors of the buildings, passed below the workers detaching the TRUMP PLACE letters from the Freedom Place side. Little heads peered up to see what was going on.
G/O Media may get a commission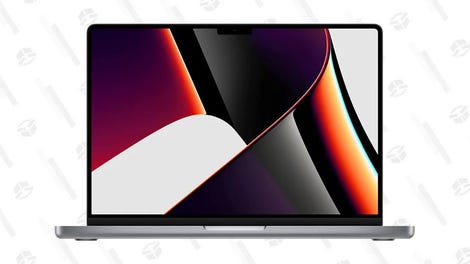 Save $300
2021 14" 1TB MacBook Pro
Around front, by the river, the stripping process was farther along. The huge shiny letters were piled in the back of a truck, and the crews were trying to get the stain of Trump's name off the stonework. People were standing across the street to watch. Television cameras were in place by the Citi Bike rack opposite the middle building, at 160 Riverside Boulevard, to record the action.
A compressor chugged to life and a man up on a boom lift began blasting away at the shadowy outlines of the T, the R, and the U with a power washer. Water trickled down the face of the building.
After a while, the man set aside the power washer and began scrubbing at the letters with a long brush.

The canopy below still carried the brass-on-brass TRUMP PLACE name, but next door, the new canopy signage was in place. From now on, 180 Riverside Boulevard will be known as 180 Riverside Boulevard.