In an interview with Fox News, the president did his best to hold his cards close to his vest as to whether he's vetting Supreme Court nominees based on their position on overturning Roe v. Wade—which is to say, he was extremely candid about his administration's strategy.
"Are you going to ask your nominees beforehand how they might vote on Roe v. Wade?" Fox News host Maria Bartiromo asked Trump.
"Well that's a big one, probably not," he replied, nodding to the apparent fact that his advisors are pushing him to keep his nominee's abortion views tactfully ambiguous—as certain GOP senators claim weakly to believe in precedent, and assert inaccurately that Justice Gorsuch respects precedent—so that Susan Collins and Lisa Murkowski will confirm them to the Supreme Court, where they can can then promptly deprive people in conservative states of the right to a safe and legal abortion. "They're all saying, don't do that, don't do that, you shouldn't do that. But I'm putting conservative people on," Trump said.
Bartiromo noted that on the campaign trail, Trump had said he'd advocated leaving abortion rights up to the states, i.e. overturning Roe.
G/O Media may get a commission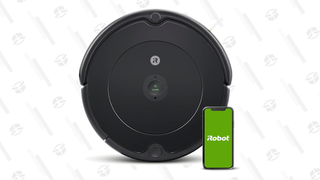 35% Off Black Friday Deal
iRobot Roomba 694 Robot Vacuum
"Well, maybe someday it will be [up] to the states, you never know how that's gonna turn out, that's a very complex question," he replied. "But we'll see what happens."
If Donald Trump ever paid for your abortion, or if you have a related tip, now would be a great time to contact Jezebel at tips@jezebel.com, or reach out securely via the Freedom of the Press Foundation's Secure Drop.