Desperate to distract critics and disillusioned supporters alike from the parade of ghouls marching into the White House, Donald Trump announced on Thursday a deal with Carrier, the air-conditioner company, to keep nearly 1,000 jobs it had planned to move from Indiana to Mexico in the state. As it turns out, not only does this deal benefit Carrier more than it does its employees, it may also personally benefit Trump, who financial disclosures reveal has profited from an investment in Carrier's parent company, United Technologies.
According to the Public Financial Disclosure report filed in May, Trump made between $2,501 and $5,000 from corporate bonds he holds in United Technologies. His disclosure from last year, the Indy Star reported, showed that he made $2,501 to $5,000 from a $100,001 to $250,000 investment in the company. "It is not surprising that President-elect Trump once tried to sue the company that he is now interested in saving," Scott Dworkin, Senior Advisor to the Democratic Coalition Against Trump, said in a statement. "It is clear that President-elect Trump is, and always has been, interested in doing what will benefit one person, and one person only: himself."
Meanwhile, more than half of the jobs that Carrier had intended to move to Mexico are still going to be lost, and the tariff that Trump had threatened to impose transformed this week into a tax cut—an incentive, basically, to keep the jobs in Indiana. Also, the union whose workers' jobs are under threat was not allowed to participate in negotiations between the company and Trump.
"We met with the company at noon," Chuck Jones, president of the local chapter of the United Steelworkers union, told the Huffington Post, "and then we found out what the numbers actually reflected was, they weren't keeping our 1,283 bargaining unit members, they were going to keep 730." He added: "That was somewhat of a setback, because Trump was saying they were keeping 1,000 jobs."
G/O Media may get a commission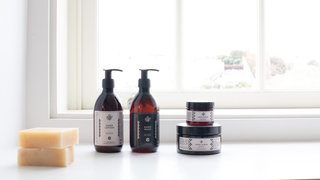 Exfoliate and Hydrate
The Handmade Soap Company
United Technologies received more than $6 billion in defense contracts last year and made a profit of $7.6 billion.