Welcome to Barf Bag, a daily politics roundup to help you sort through the chaotic Trumpian news cycle.

I hope that Lifetime turns the Louise Linton Instagram scandal into a movie.
Here's all the shit we couldn't cover today:
In what the Washington Post calls an "escalating feud," Donald Trump sent a series of tweets directed at Mitch McConnell and Paul Ryan. According to Trump, he asked McConnell and Ryan to attach the debt ceiling approval to a veteran's bill for quick and easy passage. McConnell and Ryan refused Trump's suggestion and now the decision to raise the debt ceiling is looming. Republicans have traditionally been opposed to raising the debt ceiling, preferring a government shutdown, and it appears that GOP leadership is relying on Democratic votes in order to raise the limits. Trump also took the time to clear up the actual reasons he hates McConnell and it definitely has nothing to do with Russia. This is truly the petty political feud we deserve. [Washington Post]

Paul Ryan isn't bothered by Trump's tweets. [Talking Points Memo]

Trump tweeted more things. [Slate]

In other administration-related social media news, the woman mocked by Louise Linton has written a response. [Huff Post]

After completing a four-month review of national monuments, Interior Secretary Ryan Zinke is recommending that none of the 27 sites be eliminated. Zinke indicated that he will recommend to the White House a "handful" of changes that include boundary adjustments. Zinke did not elaborate on the details of his recommendation. The Guardian describes Zinke's announcement as a "blow for conservationists and a win for conservative groups." [Associated Press/The Guardian]

Jared Kushner has met with leaders from Israel and Palestine in an attempt to restart peace talks between the two. It's not going well. [Associated Press]

After three weeks, Sarah Sanders is back. [Axios]

Guess everyone is going to push the John Kelly is a level-headed Marine ("crossing a Marine is a different matter") in cool contrast to a "rebelling" Trump narrative until Kelly gets fired. [New York Times]

That petition asking the White House to designate Antifa as a terrorist group was unsurprisingly written by a pro-Trump troll. [Politico]

Every county in the United States now has access to Obamacare. [The Hill]

Here's an interesting piece on the old photographs of Afghan women that were supposedly used to sway Trump's decision to recommit the war in Afghanistan. [The Guardian]

Maybe he's born with it, maybe it's the thousands of euros that Emmanuel Macron has spent on makeup. [The Telegraph]

Here are some tweets the president was allowed to publish:
G/O Media may get a commission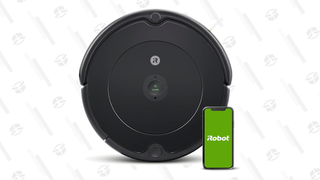 35% Off Black Friday Deal
iRobot Roomba 694 Robot Vacuum
This has been Barf Bag.