The musical lineup for Donald Trump's inauguration has been unveiled and despite the President-elect's insistence that headlining acts were clamoring to perform, the best he could do was 3 Doors Down, Toby Keith, and an America's Got Talent contestant.

You might remember 3 Doors Down from the guttural sap rock genre that grew and faded in the late '90s and early '00s with bands like the Goo Goo Dolls, Nickelback, and Creed. If you're particularly unlucky, you might have slow danced to the band's 2002 hit "Here Without You" at a sweaty school dance. Contrary to widespread belief/interest, 3 Doors Down still exists and performs shows.
Toby Keith, longtime mascot of the right, released "Courtesy Of The Red, White, And Blue" in 2001, including the lyrics, "And you'll be sorry that you messed with the U.S. of A. 'cause we'll put a boot in your ass. It's the American way." A self-identified Independent, Keith once told CNN that the biggest misconception about him is that he's "a lifetime Republican, right-wing Nazi guy. If that's their perception of me, that's fine. But you can't support the troops and be for national health care; that's illegal in this country. You're either right or you're left, buddy." To Trump's credit, he is also incredibly popular among country music fans, which we won't hold against them.
Also performing at the inauguration: Broadway star Jennifer Holliday, DJ Ravidrums, The Piano Guys, Tim Rushlow, Larry Stewart, Marty Roe, Lee Greenwood, and 16-year-old opera star Jackie Evancho, runner-up on America's Got Talent in 2010.
G/O Media may get a commission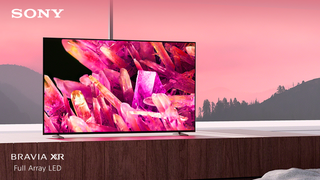 $400 off
Sony 55 Inch 4K Ultra HD TV X90K Series
Well, can't wait to not watch that.