In a Q&A session at a veterans event in Herndon, Virginia, Donald Trump, a wheezing Blurrg from Endor's forest moon, reached all the way down into his black, fermented gut and ripped out a gem that is sure to improve his standing with American voters.
When asked whether he would follow a "holistic" approach to solve the substantial mental health issues facing the United States' essentially abandoned veteran community, Trump responded that yes, we need that "so badly." Then things went slightly south. From Politico:
"When you talk about the mental health problems, when people come back from war and combat — and they see things that maybe a lot of the folks in this room have seen many times over and you're strong and you can handle it, but a lot of people can't handle it," Trump said. "And they see horror stories. They see events that you couldn't see in a movie. Nobody would believe it."
Trump went on to proclaim veterans' mental health one of the "least addressed" issues, and to promise a "a very, very robust — very, very robust — level of performance having to do with mental health."
G/O Media may get a commission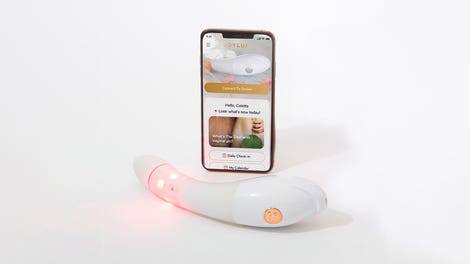 $50 Off
Joylux vFit Gold Device
The deeply misguided notion that certain individuals are simply not "strong" enough to handle trauma almost seems to have emerged—like most other perspectives Trump has shared—from a local 1970s tv report, or Sean Hannity's garbled sleep-talk.
Trump has a pretty bizarre history of speaking disrespectfully towards veterans, whether it's making fun of Sen. John McCain for getting captured in a war that Trump apparently lacked the stamina to participate in or attacking a Gold Star family for speaking out against him. It's clear now that the Trump campaign is making a push to reach out to the veteran community, and it is also clear that he is utterly incapable of doing so without being a total asshole.

Following a barrage of criticism, a statement attributed to Trump surrogate Lt. Gen. Michael Flynn was released that went ahead and blamed this mess on the media:
"The media continues to operate as the propaganda arm of Hillary Clinton as they took Mr. Trump's words out of context in order to deceive voters and veterans—an appalling act that shows they are willing to go to any length to carry water for their candidate of choice," Flynn said. "Mr. Trump was highlighting the challenges veterans face when returning home after serving their country. He has always respected the service and sacrifice of our military men and women—proposing reforms to Veteran Affairs to adequately address the various issues veterans face when they return home."
Truly appalling of us, yes.