According to a report from Politico, President Donald Trump is set to appoint Teresa Manning as deputy assistant secretary for population affairs in the Department of Health and Human Services. In that position, Manning will oversee the federal funding for family planning programs.

In a pattern now familiar in the Trump administration, Manning is uniquely unqualified to oversee the current $286 million that's distributed for family planning under Title X. She is a well-known anti-abortion advocate and has spoken out against birth control, saying that it "doesn't work." Manning, who is currently an adjunct law professor at George Mason University, was formerly employed at the National Right to Life Committee and the Family Research Council, both far right groups who oppose reproductive rights.
To get a sense of Manning's positions on contraception, The Guardian reports that, in an interview with a Boston NPR affiliate, she said:
"Its [contraception's] efficacy is very low," she said, "especially when you consider over years – which, a lot of contraception health advocates want to start women in their adolescent years, when they're extremely fertile, incidentally, and continue for 10, 20, 30 years. The prospect that contraception would always prevent the conception of a child is preposterous."
It's unclear whether Manning has since cleared up her misconceptions about how contraception works. What is clear is that Manning will be a willing participant in the Trump administration's dismantling of Title X. In mid-April, Trump signed legislation that repealed Obama-era rules that prevented states from defunding health centers that provided abortions (i.e. Planned Parenthood). In a 2003 interview with C-SPAN, Manning said that "family planning is something that occurs between a husband and a wife and God, and it doesn't really involve the federal government, much less the United Nations, where we hear about family planning all the time."
The Trump administration declined to confirm Manning's appointment but Politico notes that she is listed in the HHS employee directory. There's no doubt that Manning's appointment continues a trend of choosing vocal anti-choice activists in HHS. Last week, the administration announced the appointment of Charmaine Yoest, the former president of Americans United for Life. In the past, Yoest has said that IUDs are abortifacients (they have "life-ending properties") and believed that abortion causes cancer. As president of Americans United for Life, Yoest also championed TRAP laws like Texas's HB2 which effectively shut down clinics across the state before the law and others like it were overturned by the Supreme Court. 
G/O Media may get a commission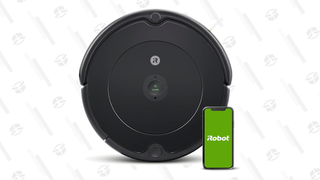 35% Off Black Friday Deal
iRobot Roomba 694 Robot Vacuum
In February, too, the administration quietly appointed Katy Talento to the Domestic Policy Council where she works on health-care policy. According to Rewire, Talento has "repeatedly pushed myths about contraception, including the false claim that hormonal contraceptives cause abortions, miscarriages, and reduced fertility."
Truly an all-star lineup that even Mike Pence can be proud of.