Defense Secretary Mark Esper, who was nominated by Trump to the position but has not always fallen in line with the president's every whim, has prepped his letter of resignation, sources tell NBC. The existence of the resignation is not an uncommon occurrence; as I learned from the West Wing, everyone "serves at the pleasure of the president" and at any moment an official can be asked to provide their letter. It's like getting fired, but with a touch more paperwork.
These letters become even more common at the end of a presidential term, where the current administration's staff "resigns" to make way for the new administration's staff. Some people stay on, some don't; it's all very ceremonial and patriotic. But with about two months left in Donald Trump's first term, why is the letter floating around now? Informational Twitter account Angry White House Staffer sprinkled a little extra paranoia into the air by pointing out that the letter could be a result of Trump working on an executive order that Esper is firmly against—which at this point could mean just about anything.
Defense officials tell NBC, however, that the letter has more to do with the election's end in general. If Trump wins the election or not, Esper expects to be one of the cabinet members asked to sashay away at the end of the election because of his involvement in an initiative to strip military bases of their Confederate namesakes, which Trump does not like.
The core issue here, though, is that Esper doesn't seem to give a fuck about the American people's frayed nerves. If it's not an update on who won the election, we do not need anymore confusing news coming out of the White House or any White House-adjacent buildings! [NBC]
G/O Media may get a commission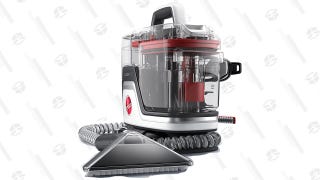 Save $10
Hoover CleanSlate Plus Carpet & Upholstery Cleaner
---
A result has been called in another highly watched race out of Kentucky's 4th congressional district. Wilbur Beast of Rabbit Hash, Kentucky has been elected Rabbit Hash's new mayor. Wilbur, who is a French bulldog, unseated incumbent Brynneth Pawltro after a long-fought battle for leadership in Rabbit Hash. Wilbur was voted into office with an astounding 13,143 votes according to Eagle Country Online. This was a record turnout year for Rabbit Hash which counted over 22,000 votes in a timely fashion.
Former Mayor Pawltro conceded the race on Tuesday night letting their supporters know that even if it wasn't the desired outcome. Wilbur was a good dog and would thus be a good mayor. Pawltro was a beloved mayor for four years and is considering retirement from political life. [The Hill]
---