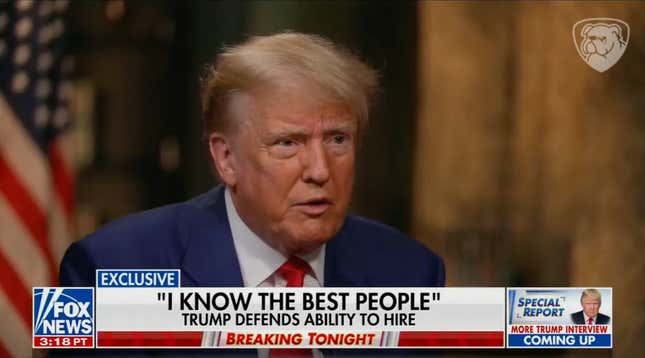 Upon being elected president in 2016, Donald Trump promised "to surround myself with only the best and most serious people." Of course, within years, many officials in his administration or campaign staff turned on the former president—prompting him to insult their competence, character, and sometimes appearances.

Politician Cites the Constitution to Eviscerate Gun Supporters
In a Monday interview with Bret Baier on Fox News, Baier laid out all of the former Trump officials who now oppose him: "Your Vice President Mike Pence is running against you. Your ambassador to the United Nations, Nikki Haley, she's running against you. Your former Secretary of State, Mike Pompeo, said he's not supporting you."
Baier also name-dropped Trump's national security adviser John Bolton, Attorney General Bill Barr, White House Chiefs of Staff John Kelly and Mick Mulvaney, Secretary of State Rex Tillerson, Defense Secretary James Mattis, and press secretary Kayleigh McEnany—all of whom have since spoken out against Trump and predictably drawn his ire.
In response to those who have turned on him, Baier pointed out Trump has called some of his former cabinet members and staffers "dumb as a rock," "a born loser," "milquetoast [sic]," and "born with a very small brain." So why, then, did the self-proclaimed business genius and author of Art of the Deal hire any of them in the first place? Or, as Baier very candidly put it: "Why did you hire all of them in the first place?"
Trump offered a predictable non-answer, claiming that he "hired ten to one that were fantastic," despite how nearly every prominent member of his administration has denounced him. "For every one you say, I had 10 that love us," he claimed, before going on a tangent about ISIS ("I knocked out ISIS, I defeated ISIS. They said, Mattis, it will take three years, and I don't think we can do it. I did it in a period of like four weeks.")
It's been a lingering question for years how Trump could hire the same people he now calls "losers" and "dumb as a rock," and certainly, how this reflects on his judgment. But at this point, there are arguably more pressing questions—like, say, why he would suggest his supporters were justified in threatening to hang Pence on Jan. 6, 2021, or perhaps why so many of the men he's appointed are alleged abusers. Then again, I doubt he'd have great answers to those questions either.