Need an image to keep you from becoming sexually aroused, eating, sleeping, or going outside for a while? Here it is: Donald Trump appeared in a Playboy softcore porn video and it wasn't even the '90s anymore.

On Friday, Buzzfeed News reported that it had obtained a 2000 "Centerfold" video in which Trump cameos (fully clothed, thank Lucifer), from a Buffalo-based video store called Cinema Cornucopia.
The footage is in the form of a VHS, a huge and virtually extinct image canister, whose cover reads: "From luxuriating in a warm, soap tub, to reveling at an exclusive night club, Carol and Darlene bare their sex appeal and lead you on a sexual journey of discovery."
In case that wasn't clear enough, the concept of the porn movie is, according to Buzzfeed, a cross-country bus hunt for Playmate of the Year, featuring the cities of New York, Chicago, Las Vegas, Nashville, and San Diego.
G/O Media may get a commission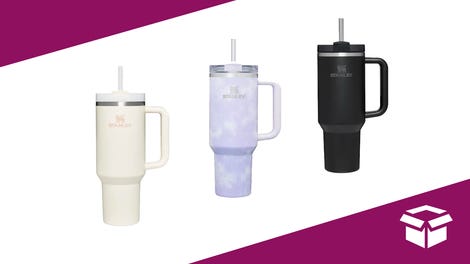 Up to 45% off
Stanley Cup Sale
Trump's scene is in New York, where he pops a bottle of champaign for the worthy Playmates and pours it upon a Playboy bunny logo, presumably as some sort of sacrifice to the gods of ladyparts.
"Beauty is beauty," Trumps says, "and let's see what happens with New York." Trump truly is a man of few meaningful words and no redeeming quality to finish this sentence with.
According to Buzzfeed, the video also features fully nude women dancing, posing sexually, touching themselves, bathing, rubbing honey on themselves, and generally demonstrating tremendous stamina.
The video surfaces amidst yet another Trumpian scandal, this one involving former Miss Universe winner Alicia Machado, whom Trump once body-shamed and called "Miss Housekeeping," and was invoked by Hillary Clinton as ammunition against her opponent during the first presidential debate. Then, at around 5 a.m. on Friday morning, Trump fired off a series of probably awful, but mostly just incomprehensible tweets about Machado, one of which told followers to "check out sex tape"—presumably hers.
And while the accusations of a Machado sex tape are false, here's a "sexy" video that definitely exists of Trump, as it appears on Buzzfeed.