There was some misplaced optimism that Donald Trump would immediately jettison all of his inane campaign promises upon taking office; that the threat of a wall at the Mexican border would be quietly tabled for its obvious insanity. Not so! The administration has released a request for proposals seeking a contractor to take on the job of building his Shit Wall, with the deadline coming up on March 29.

According to the RFP, which was released Friday by Customs and Border Protection, the wall will be 30 feet tall, sunk at least six feet into the ground and include 25 and 50 foot automated gates for pedestrians and vehicles. An initial proposal called for the wall to be made of solid concrete, though the request was later amended to include a potential see-through structure for "situational awareness."
Whatever material it winds up being, the design must be impenetrable by "sledgehammer, car jack, pick axe, chisel, battery operated impact tools, battery operated cutting tools, Oxy/acetylene torch or other similar hand-held tools" for at least 30 minutes.
But this wall isn't all business—it's supposed to be fun! To that end, the RFP stipulates that the American side be "aesthetically pleasing in color," allowing it to blend into the surrounding landscape. Will you be less morally offended by the wall if it features images of...what? Nature, which Scott Pruitt is intent on destroying? Americans from all backgrounds co-existing...nope, that's not gonna work. It'll have to be shapes, then. Some squares, a few rectangles, the occasional circle, like the waiting room of a dentist office in hell. Unsurprisingly, the aesthetics of the Mexican side were not mentioned.
Around 700 contractors have already registered their interest in building the 1,900 mile wall, despite calls from the Mexican government that its national companies please "examine their conscience" before participating. From the Financial Times:
Luis Videgaray, Mexico's foreign minister, urged Mexican companies to think again before bidding and put their country first. Mexico has already ruled out paying for the wall, despite Mr Trump's demands.

"It is pertinent for any companies that see an economic opportunity in this to examine their conscience because we're not talking about economics here, but a profoundly unfriendly act between two nations and we think this is a responsibility that falls to us all," Mr Videgaray said.
G/O Media may get a commission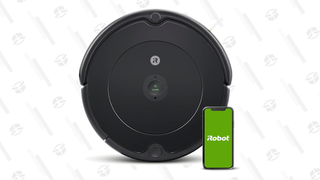 35% Off Black Friday Deal
iRobot Roomba 694 Robot Vacuum
Once the proposals are submitted, the government will solicit the construction of a handful of 30-foot-long prototypes, as well as 10-foot models for penetration tests, CNN reports.
It's currently unknown how much the wall will cost, though various estimates predict it will fall somewhere between $10 and $25 billion. Mexico has expressed under no uncertain terms that it ain't payin' for shit, and Senate Democrats have threatened a government shutdown if this idiot plan proceeds.
Trump's budget proposal seeks $1.5 billion in 2017 and $2.6 billion in 2018 to cover border infrastructure and technology, which includes partial construction of the wall. As Office of Management and Budget director Mick Mulvaney said last week:
"Does that build the whole wall? No. It doesn't. But it gives us a start on the program, and you see some of the wall being built this year. Obviously we increase funding in 2018. But the wall will take longer than two years to build."
Haha, that's fine, we'll all be dead by then.