During last week's Conservative Political Action Conference (CPAC), speakers on the "Are Conservatives Serious About Defunding Planned Parenthood?" panel spoke enthusiastically about abstinence programs supported by the Trump administration, as well as growing interest in federal support for crisis clinics, facilities for pregnant women claiming to offer resources, but generally serve to counsel against abortion.

The women on the panel, particularly the Family Research Council's Kelly Marcum, celebrated the Trump administration's commitment to "sexual risk aversion," referencing a November initiative from Health and Human Services to "improve teen pregnancy prevention and sexual risk avoidance programs." The initiative included funding of $10 million to teach "sexual risk aversion," the right's preferred term for abstinence-only education (HHS's abstinence-only initiative came just months after the administration abruptly cut more than $200 million of funding for teen pregnancy prevention programs). It was clear during this CPAC panel that leaders of the anti-abortion movement, all deeply committed to abstinence-only education, were pleased with the work of the Trump administration, viewing it as a powerful and committed ally.

It should come as no surprise then that on Friday, a day after the panel, the Trump administration announced that it would emphasize Title X grant applications from faith-based organizations, as well as organizations that advocate abstinence-only education and "natural family planning." The new rules will make it easier for crisis clinics and other faith-based organizations to obtain federal grants while simultaneously erecting more barriers for organizations like Planned Parenthood.
G/O Media may get a commission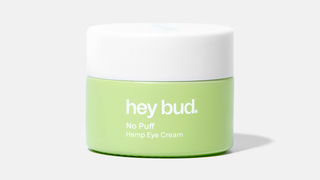 15% off
Hey Bud - No Puff Hemp Eye Cream
Officials announced the new guidelines late, several months after the initial deadline set by HHS. The new Title X rules, covering the federal grant program dedicated to family planning, greeted enthusiastically by anti-abortion groups, were disappointing for women's health organizations, but hardly a surprise. Since taking office, the administration has continually sought to roll back state and federal dollars for reproductive healthcare. In addition to HHS's November funding for "sexual risk aversion programs," the Trump administration previously rescinded an Obama-era rule that required states to move family planning funds along to women's health providers regardless of whether or not the group provided abortion.
But the new Title X rules go even farther, not simply taking indirect aim at Planned Parenthood but also opening the grant program to crisis clinics and other faith-based organization at the expense of organizations that provide birth control (abortion care was never covered by Title X). The grant program is now based on a new points system that, among other things, works to favor providers that "assist in the establishment and operation of voluntary family planning projects which shall offer a broad range of acceptable and effective family planning methods and services (including natural family planning methods, infertility services, and services for adolescents.)" "Natural family planning," which the rules note is now called "Fertility Awareness Based Methods," is exactly what it sounds like.
Though the new Title X language encourages the "applications for all methods," but throughout the document fails to mention contraception, birth control, or Quality Family Planning recommendations which are the national standard of care for family planning services used by the Centers for Disease Control and Prevention, as well as the US Office of Population Affairs. It does, however, mention "natural family planning" numerous times.
In addition, the new rules encourage groups who offer "a holistic vision of health and those historically underrepresented in the Title X program," to apply for the grant program. Experts argue that much of the language is tailored to crisis clinics who are one of the few organizations that offer abstinence-only education or natural family planning. But if the language signals to crisis clinics that they are now eligible for Title X grants, then the specifics of the rules are even clearer. The grant program is designed to encourage providers that offer a single method of family planning like the kind of natural family planning offered by religious providers, as well award them points under the new system. The guidelines state that "single providers who have developed expertise in one family planning approach or method may be partners in a broader proposal that offers a broad range of family planning methods."
But the emphasis isn't just on "Fertility Awareness Based Methods," it's also on abstinence-only programs. HHS encourages applications from those who provide: "Activities for adolescents that do not normalize sexual risk behaviors, but instead clearly communicate the research informed benefits of delaying sex or returning to a sexually risk-free status." The language employed here ("sexually risk-free status") implies abstinence-only without explicitly stating it in such blatant terms.
Simply put, the Title X guidelines open the door to crisis pregnancy centers and other faith-based organizations to participate since they are one of the few organizations to meet the new guidelines while simultaneously placing Planned Parenthood at a disadvantage. Indeed, the new rules encourage "cooperation with community-based and faith-based organizations," even though it's unlikely that many of these organizations offer the full range of family planning options, like birth control, particularly long-acting reversible contraceptives like IUDs (which have become increasingly popular since Donald Trump's election).
Dawn Laugens, Executive Vice President of Planned Parenthood Federation of America, said the new rules are "a clear attempt to roll back access to the type of birth control that most women want to use."
Though Valerie Huber, Chief of Staff for the Office of the Assistant Secretary of Health who oversees Title X at HHS, said that the department wasn't preventing Planned Parenthood from applying or obtaining grant money, it's clear that the new rules were written with providers like Planned Parenthood in mind. "Our goal is to help improve and expand the quality care for women and men who are served by this program," Huber told the Wall Street Journal. Prior to joining HHS, Huber was President and CEO of Ascend, an organization dedicated to promoting abstinence-only education in schools.
The new Title X rules have been criticized not only by Planned Parenthood but by health organizations as well. In a statement on Monday, the American College of Obstetricians and Gynecologists described the new guidelines as rolling "back the clock on women's health." Such rollbacks, however, seem to be the future of reproductive health under the Trump administration.