The disconnected hamburger phone who is also our president, Donald Trump, fired off some tweet Saturday morning in which he accused former president Barack Obama of having his "wires tapped" at Trump Tower during the presidential campaign. Trump did not bother to offer any evidence of this, or an information source, nor has the White House been able to be reached for comment, so far, on what the hell is going on.

Trump demonstrated, in his Twitter rant, a poor application of American history lessons, implying that Obama is like Nixon or McCarthy (bad). Here are the execrable tweets.
G/O Media may get a commission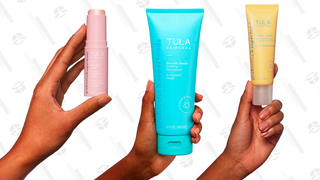 Obama spokesperson Kevin Lewis issued a statement on Saturday denying Trump's claims, explaining that it was a "cardinal rule" of the Obama administration that no White House official interfere in any Justice Department investigations and therefore, "As part of that practice, neither President Obama nor any White House official ever ordered surveillance on any U.S. citizen," and, "any suggestion otherwise is simply false."

So far, Republican Lindsey Graham, at the very least, doesn't think Trump is off his rocker. The South Carolina senator said during a town hall meeting on Saturday:
"I'm very worried that our president is suggesting that the former president has done something illegal. I would be very worried if, in fact, the Obama administration was able to obtain a warrant lawfully about Trump campaign activity with a foreign government. So it's my job as the United States senator to get to the bottom of this. I promise you I will."
It's not clear why Trump made these accusations, the media is trying to make sense of it of course, to find a reason rooted in fact. Part of what should be taken into consideration is Trump's tendency to say the opposite of the truth or to claim that what is evidently true about himself or his own administration is actually true of others (either way, we call this "lying"). Deflection is not a terrible strategy for Trump at this point, given the onslaught of scandals and xenophobic policies gushing out of the White House these days, if indeed that's what's going on here.
And, while I'm not mad at this new Obama who leaves a few extra buttons undone and could windsurf on a lake made of his own book deal money, now seems like a really great time for him to say something damning about this administration.