Each week, we'll answer your beauty-related questions, even the dumb ones.

1. I have a reddened scar on the back of my right hand from a burn in January. I love to bake and accidentally brushed the oven rack. I put Burt's Bees Res-Q ointment on it to minimize blistering and peeling, but it's still red. What kinds of topical treatments would actually fade the scar?
Thank you for asking this question and giving me the opportunity to discover ONION EXTRACT. What?! Yep.
Here's the deal: scars take two seconds to create and months to erase (without surgery, that is). So, this is a long game and it requires a multi-pronged approach and some diligence, but I believe in you. Today, you're going to the drug store to pick up three things:
Mederma. This lotion has that delicious onion extract in it. You're going to apply this daily. I dunno, ask a scientist how it works.
Silicone Scar Sheets. CVS makes them but a brand name is ScarAway. Use as directed.
Alpha Hydroxy Acid. Find a mild over-the-counter formulation and apply it once a week, or less often if you're prone to irritation.
Keep at this program at least until Labor Day and if you're still annoyed by the scar, guess what? SCARS ARE COOL. I really don't even understand why you want to get rid of it? I've never met a scar I didn't like, or at least respect, which is often better than being liked. Scars are sexy, they tell a story, and they make you special. They also provide medical examiners with unique identifying information in case you end up in a cold case file somewhere along the way, god forbid. You should just keep it!
2. I'm hoping you can help my find a new swimsuit for this year. I was a two-piece girl from about age seven until my early 30s, when I birthed a darling baby boy. My abs pretty much fell apart at that point, so the two-piece was out. In a postpartum haze, I bought this suit and loved it:
G/O Media may get a commission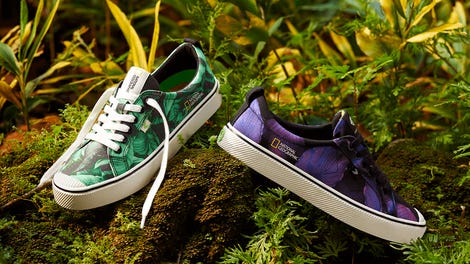 New New New
Cariuma + National Geographic
It held everything together and I felt very sexy and glam. But three years later, I've lost the baby weight (finally!) and the suit is too big, so I need something new. But the abs never went back into place, so I'm still not ready for the traditional two-piece. And the one-piece feels kind of cumbersome to get in and out of while wrangling a preschooler at the same time.

I'm looking for a tankini that combines the sexy glamour of my old Esther Williams suit with the ease of a two-piece, but all the tankinis I find look so mumsy and frumpy. Please help!
No. Death to tankinis. I mean, seriously, in trying to answer your question I did a bunch of Googling and my eyes! My poor eyes! Look, wear whatever you want because as we've said before, there are no rules to beach fashion, but I wouldn't if I were you. "It's just a longer bikini top! It's just a one-piece with the middle missing!" you say. But that's not all it is. A tankini is a compromise that does not need to be made. Tankinis are the sugar- and fat-free vanilla flavored non-dairy creamer of the swimsuit world. Just use cream and sugar! Wear a bikini. Orrr, you can splurge on this perfect one-piece swimsuit I stumbled across last month? It also comes in many colors and it is THE cut for post-baby bodies: full coverage in the seat, high waisted, still very sexy. And it maybe takes two seconds longer to get in an out of than bikini bottoms alone.
Your second weapon is a kimono cover up. This is a good one. They're super easy to throw on and look more sophisticated than an oversized shirt.
Okay, fine. This suit was in the "tankini" category on Lands' End and I guess it's cute.
3. I love having short hair and feel the most confident and attractive when it's about the length & bangs situation in this picture of Ashlee Simpson, but I feel like there's this pressure to start growing out your hair as soon as you get engaged so you have more "options" on your wedding day. I've been looking for pictures of brides with short hair for inspiration but it hasn't been very helpful. I'm open to something like a headband but I'm not really looking to have a veil or anything too fancy. I just want my hair to look nice! Any suggestions/inspiration for styling short hair for a fancy-ish occasion?
Goodness gracious, it's ONE day. Everyone relax.
And now I'm going to tell you a secret: you can always buy hair. Say you keep your hair short and make yourself SO happy and you're ready to rock a bob down the aisle but then your monster-in-law tells you the harrowing tale of The Bad Luck Bob and how her grandmother's best friend was killed on her wedding day during a finger wave incident and ever since then they've banned short hair at weddings in her family. Would've been nice to know that a long time ago, but whatever, lady! All you have to do is buy some hair. No, you also have to find a hairdresser who knows what to do with it, but someone else's hair (or fake hair!) is the solution in case you regret your totally solid decision.
For hair inspiration in general, there is no better website than UKHairDressers.com. And never underestimate the ability of Pinteresters to post ad infinitum about anything wedding-related. Here are a million hairstyles to choose from.
4. Would love your advice and the advice of the Millihelen crew about how to fix brittle nails. I grew up a nail and cuticle biter, still am a bit. Mostly they are asking for it though. My nails flake, they bend, they rip at the corners, they peel. How do I make it stop!?
Nail Envy. That is my one and only answer. Buy Nail Envy and follow the directions. And now I present to you a barrage of comments about how it contains formaldehyde and will turn you into a mummy! (At least you'll be a mummy with nice nails.)
Do you have a beauty question? Send us an email.