Trevor Noah did solidly swell in his debut as host of The Daily Show on Monday night. As with anyone inheriting a TV show for the first time, there were moderate levels of awkwardness, nervous adjustment and self-awareness. Appropriately, though, Noah started by extending gratitude to his predecessor, who bequeathed him his anchor desk, and to us for sticking around. "Thank you for joining us as we continue the war on bullshit," he said.

Whenever a new host enters late night, there's rarely a sense of joy among minorities because those are legacy jobs that extend over decades and reward white men. Networks rarely search outside themselves and their inner circles, so you know it'll be a long time before a person of color can even be not-considered again. When Noah was announced as Stewart's successor, it was a clear sign of progress, albeit on cable TV, and a welcomed new black face. But this is a tough task for anyone, let alone a newcomer to American television. A premature prediction: the show will be fine, good even.
The great thing is that Noah is acquiring an already proven format and retained Stewart's brilliant writing team. He also diversified the staff and hired Baratunde Thurston to oversee digital content (today's exclusive is a bit with Hasan Minhaj about the hysteria over the Pope's Philly visit). Noah's brief, simple opening monologue served to calm and reassure the audience that this isn't a drastic reworking of the show you love. He, of course, referenced home. "First of all, this is surreal for me," he said. "Growing up in the dusty streets of South Africa, I never dreamed that I would ever have two things: an indoor toilet, and a job as host of The Daily Show. And now I have both and I'm quite comfortable with one of them."
Let's not fool ourselves, Noah's angel face and dimples will be nice to look at on a daily basis, just like Stewart's distinguished gray fox steez and smartass demeanor made his shows feel like bar chats. Noah promised to do the job justice and acknowledged Stewart's legacy as not only a legitimate news source, but a family member. "I can only assume that this is as strange for you as it is for me," he said, describing Stewart as a "political dad" and himself a "stepdad who's black, which is not ideal."
The most important thing here is how Noah handles the news, and he handled it well. As he joked about starting with something light, a graphic of Syria popped up. "Just kidding, it's the Pope. Yeah!" he said, describing the Pope as "a young Bernie Sanders" before switching topics to John Boehner's resignation and feigning hurt that Boehner was leaving just as Noah's job got underway. Noah is a natural behind the desk, with the caveat that Stewart is still behind much of the cadence of the show and some of that won't change. Naturally, some jokes didn't fly. The audience winced when Noah made a Whitney Houston crack jab.
G/O Media may get a commission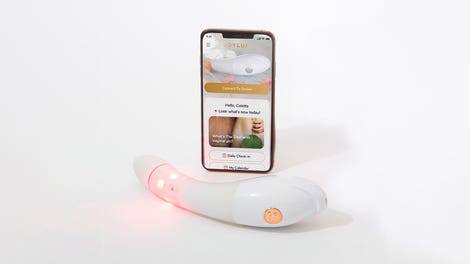 $50 Off
Joylux vFit Gold Device
Shades of Stewart also showed during the Water on Mars segment, when Noah did a spit take with a water bottle. Most hilarious was his exchange with Roy Wood, Jr., whose dismissal of the possibility of building colonies on Mars was much like a black uncle. Wood keenly noted that black people should not get too excited. "I can tell you I don't give a shit," he said. "They want us to be excited about motherfuckin' water?"
When Noah asked, "Doesn't this raise the possibility that one day people could live on Mars?" Wood made it clear that the spaceship is not for us. "Brother can't catch a cab. You think we could catch a spaceship? Black people ain't going to Mars!" Beyoncé, Oprah and Michael Strahan, said Wood, are the only Mars prospects.
Given Noah's background as a talk show host on Tonight With Trevor Noah in Johannesburg, there've been expectations of a more "global" perspective, which the show poked fun at in a cool segment with Jordan Klepper, who suggested jobs for Boehner and pondered his replacement, while wisely correlating Boehner's exit with the other Jon's. "I can already hear the people saying, John (Jon), please come back, please come back," said Klepper.
Interviews seem to be a deficiency with late night hosts, especially in their first few weeks. In reality, talking to random famous people on a daily basis is unnatural, awkward and ridiculous, but the best hosts find a way to bottle all this into a relatable, maybe viral conversation that doesn't feel stunted. Noah still has to learn this. He introduced his inaugural guest, Kevin Hart, and noticeably towered over him. There was little engaging banter and Hart dominated with lighthearted fishing for compliments. It was just okay.

The controversy that followed Noah's announcement may now be par for the course, and the more episodes he gets under his belt, the more it'll be in the rearview. This is only one episode of a daily show, but it was a good enough test. It's hard to imagine Noah full on fumbling and bumbling through the rest of his tenure—but that's not to say there haven't already been red flags. When asked about the Vanity Fair cover he appeared on with a bunch of white men and Larry Wilmore, he said, "Yes, that Vanity Fair [spread] is all men, which is what it is. But I guess what we need to look at is how is that evolving? The first step in that is you go, OK, there's two men of color. That's a big jump. Pretty soon there will be a woman that'll be added to that. And there will probably be more women, which is gonna be fantastic. And over time, that'll happen; it's a conversation that we need to continue having."
I don't want to nitpick this quote, but "we're working on it" is always a difficult thing to hear because it seems like that's all anyone ever says. Noah should know because he's proof that they all should just shut up and push the button.
---
Contact the author at clover@jezebel.com.