On Friday, Jae Irizarry was elected homecoming queen of Trenton Central High School, making her the first transgender student in the city's history to hold the title. Two days later, The Trentonian published a story written by Penny Ray questioning the validity of the results, reporting that "sources with intimate knowledge of activities at the school say the vote was a fraud."
But who the sources were and how they received their information is unclear. In a version of their story updated Monday, Ray wrote:
A source who works at TCHS and asked to remain anonymous out of fear of retribution said the teacher who was in charge of the voting process for this year's homecoming court failed to properly oversee the votes, which allowed students to stuff the ballot box as an alleged practical joke.

But other sources say the teacher was involved in stuffing the ballot box and did so because she wanted to "make history."
Ray then includes a quote not from a TCHS staff member familiar with the voting process, but a concerned parent named Marie "Murf" Antionette, who said:
"We are not bashing the [transgender teen]; how [she] chooses to live [her] life is not our issue. But the teen is registered at the school as a male. So why was the teacher allowed to let this person compete with other females?"
G/O Media may get a commission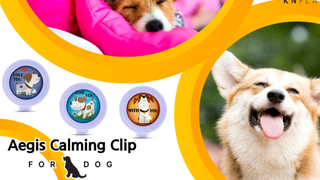 20% off
Aegis Calming Clip for Dogs
That immensely helpful commentary was followed by more quotes from concerned parents speculating about the voter fraud and saying things like "allowing a transgender teen to be crowned queen sends a message to young girls that 'they're not good enough.'"
And though Ray ends the piece by claiming "attempts to reach the transgender teen and her parents were unsuccessful," Irizarry told me over the phone Tuesday afternoon that neither she nor her mother were ever contacted by The Trentonian. "[That claim] is very false, as far as I'm concerned," she said.
And now they're attempting to clean up their mess. In an updated story published today by David Foster, The Trentonian clarified that Irizarry was indeed the "correct queen."

They followed with a statement from district spokesman Perry Lattiboudere, who said, "The vote was consistent with Trenton Central High School's protocol," adding, "the Trenton Board of Education and the Administrative Leadership proudly supports the honorees as well as our students and staff involved in the process." (I've reached out to Mr. Lattiboudere for comment regarding the original accusations, and will update if I hear back.)
But despite the baseless accusations of voter fraud published by her hometown paper, Irizarry tells me she has experienced overwhelming support from TCHS students and staff.
"[They all support me] 150 percent," she said. "At first I didn't want to run at all, but students came up to me and were like, 'You should do it, I feel like you can win,' so I ran basically last minute, and surprisingly I won!"
I asked how she felt about the anonymous source reaching out to The Trentonian. "I'm guessing maybe that specific person doesn't support the LGBTQ community, so I suppose they made it up," Irizarry said. "But the voting is correct, and everything is great. I won fair and square."
I emailed Ray asking for comment on his initial report, and received an auto-reply suggesting that he is currently on vacation.
---
Contact the author at bobby@jezebel.com.

Image via Jae Irizarry, used with permission.