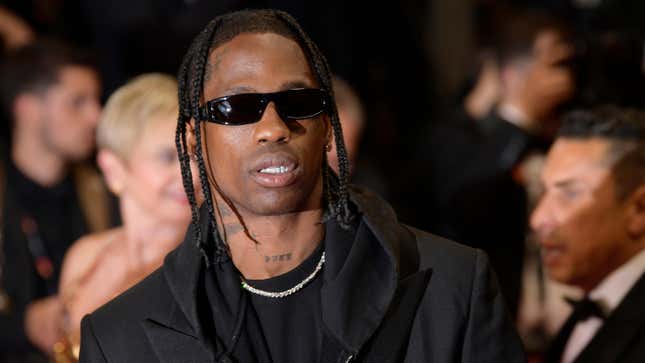 More than a year and a half after Travis Scott's Astroworld Festival culminated in 10 fatalities and thousands of injuries, a grand jury convened on Thursday did not indict the rapper and others involved.
"Today's decision by the Harris County District Attorney confirms what we have known all along — that Travis Scott is not responsible for the AstroWorld tragedy," his attorney, Kent Schaffer, said in a statement to Jezebel. "This is consistent with investigative reporting by numerous media outlets and federal and state government reports that have squarely placed the onus for event safety crises on organizers, operators and contractors — not performers."
The Houston Chronicle reported that prosecutors and Houston police detectives involved in the investigation of the concert were present at the courthouse, as was Schaffer, and a lawyer for Brent Silberstein, the festival manager.
As a result of a fatal crowd surge at the concert—one of the deadlines in history—10 people (including a 10-year-old boy) were killed by compressive asphyxiation. A May 2022 filing also cited that 4,900 people (a significantly higher total than what was previously recorded) were injured; 732 attendees claiming they required "extensive medical treatment," while 1,649 sought less extensive care. An additional 540 people were listed as "other." What constitutes "medical treatment" is unclear, and could range from hospitalizations to treatment for post-traumatic stress disorder.

Scott has a history of inciting pandemonium similar to that seen at Astroworld, and has previously pled guilty to charges stemming from his encouragement of fans to rush the stage.

"Travis Scott has been inaccurately and wrongly singled out, despite...being unaware of the events as they were unfolding," Schaffer said in his statement, which Scott has alluded to before.
"It's like a sea to you," he said in an interview months after the tragedy. "You got lights, you got sound, you got pyro, you got your in-ears [audio monitors]...you got your mic, you got your music, you got your band."
Scott is facing several other lawsuits. Shanazia Williamson and Jarawd Owens, an Ohio couple who suffered a miscarriage as a result of the surge, are among those who've filed suit against Scott; Astroworld promoters Live Nation and ScoreMore; and other entities involved in putting on the concert: "While in attendance at the festival, Shanazia was trampled and crushed resulting in horrific injuries and ultimately the death of her and Jarawd's unborn child," their lawsuit says. "In addition, Shanazia sustained injuries to her shoulder, back, leg, chest, stomach and other parts of her body."