A Southeastern Oklahoma State University professor was awarded $1.1 million by a federal jury after she argued that she was denied tenure and a promotion because she's transgender.

Rachel Tudor began as a tenure-track assistant professor in the university's English department in 2004, at which point she presented as a man. She began transitioning in 2007, becoming the university's first openly transgender professor, NBC News reports. But then:
According to the lawsuit, after notifying the university that she would be presenting as a woman at work for the 2007-2008 academic year, Tudor received a phone call from an unnamed human resources staffer who told her the school's vice president for academic affairs, Douglas McMillan, had inquired about firing her because her identity as a transgender woman offended his religious beliefs.
Tudor was not, however, fired outright, though she testified that she was told by human resources that she needed to follow "certain rules," which included not using the women's restroom, not wearing short skirts, and not wearing makeup that would be "deemed harassing to male colleagues," The Oklahoman reports.
"It was frightening. I had no idea I could lose my job just being who I am," she said.
G/O Media may get a commission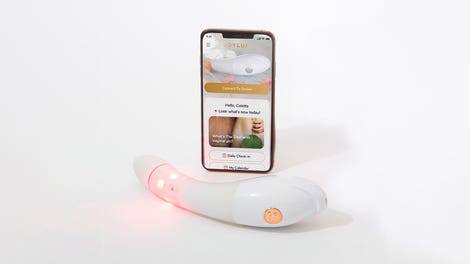 $50 Off
Joylux vFit Gold Device
In 2009, Tudor applied for tenure and a promotion to an associate professor position. Her application was denied, though a similarly qualified male colleague was approved, the lawsuit says. Tudor asked for an explanation, but McMillan and another dean refused to provide one, prompting Tudor to file a federal discrimination complaint in 2010. In 2011, she was terminated for failing to make tenure within seven years.

In 2015, the Justice Department sued the university on the basis that federal laws prohibit sex discrimination, which includes gender identity.
On Monday, the jury voted in favor of Tudor on three counts, determining that she was denied tenure based on her gender, that she was denied the opportunity to re-apply based on her gender, and that the university retaliated when she complained about workplace discrimination. She was awarded $1.165 million in damages, and a judge will later determine whether she will be reinstated at the university.
Tudor's win represents a landmark Title VII victory, since trans people are not explicitly protected under federal or Oklahoma civil rights law, Vox points out. But Tudor's argument was centered on federal law that prohibits discrimination based on sex, which the jury decided applied to Tudor based on a preponderance of evidence.
Tudor testified during the trial that her lawsuit was not about vengeance, but basic fairness.
"I tried not to make a big deal of it. I just wanted to do my job," she said.