Danica Roem is a former journalist and transgender woman who is running for the 13th District seat in Virginia's House of Delegates against noted bigot incumbent Robert G. Marshall, who is campaigning for his 14th term. He hasn't started campaigning particularly hard, and in June Roem raised $85,637 to his $4,585.
The Washington Post reports that the level of Roem's success is contested. Marshall does have more money on hand, at $81,542, while Roem has $72,224 after subtracting expenses for direct mail and phone call campaigns. Marshall also claims he's been distracted by personal issues, such as his wife's battle with ovarian cancer, as well as infrastructure proposals he's working on within his district. He seems confident that once he really launches his campaign, he'll pull far ahead of Roem:
"Am I talking to voters all the time? Yes," Marshall said. "It's just not the going-door-to-door stuff. But I'm not going to be in cruise-control mode very much longer."
Marshall also points to the fact that much of the money Roem collected in June comes from out of state, while his donors are largely Virginian constituents. Chris Abele, Milwaukee-based chairman of the Gay and Lesbian Victory Fund, donated $35,000 to Roem, while another $10,000 came from New York's Flippable, a consulting firm that researches areas that where Democrats might be able to win seats.
But amongst those larger pots of cash being handed to Roem are smaller donations from Virginians. Roem has developed a reputation for doing the "door-to-door stuff" Marshal eschews, working to gain support on a face-to-face basis since winning the Democratic nomination.
G/O Media may get a commission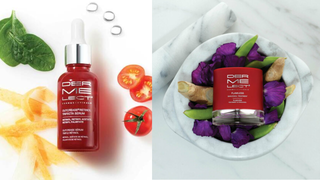 Save $19
Retinol Renewal Kit
Roem appreciates the significance of being openly transgender in the race against Marshall, who has tried to introduce discriminatory bathroom bills and once sponsored an amendment to make same-sex marriage illegal. But she says she's working to build a campaign based on her ties to the community and an "in-depth knowledge about the public policy issues" affecting people in her district.
"We're building a campaign that can win, and we don't have to sell out our values to do it," Roem said.