In addition to being subjected to the trauma of preparing for a mass shooting at school, one trans student in Virginia was further humiliated when teachers failed to guide her to safety, instead making her wait alone in the hallway during the scenario on account of her identity.

Media outlets reported on the incident after LGBTQ advocacy group Equality Stafford wrote about it in a Facebook post, alleging that at the beginning of the drill, teachers in one Stafford County Public School directed children to bathrooms or locker rooms closest to them, but couldn't decide where to send the girl, who is trans. "The student was forced to watch the adults charged with her care, debate the safest place (for the other students) to have her shelter," the post stated.
As they debated, the girl was asked to sit in the gym with a teacher, and was later taken to the locker room hallway, away from the other students. "During an event that prepares children to survive an attack by actual assailants, she was treated as if she was so much of a danger to peers that she was left exposed and vulnerable," the group wrote.
At a Stafford School Board meeting Tuesday, a friend of the girl's family, Joni Wilson, read a letter written by the girl. "If there was someone armed in my school, I would have been the first one gone," she wrote. "I felt like an afterthought. If the whole thing wasn't bad enough, the embarrassment caused me to have a panic attack in front of everyone."
"I want you to stop treating me like I am a predator. It's time for you to fix this," she continued.
G/O Media may get a commission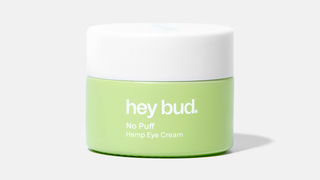 15% off
Hey Bud - No Puff Hemp Eye Cream
Stafford Public Schools superintendent Scott Kizner apologized to the community. Kizner said he has also personally apologized to the girl.
"We did not live up to my unwavering expectation that every child and adult—regardless of race, religion, color, disability, gender and sexual orientation—is treated with respect and dignity and for that I apologize to the student, the family and the Stafford community," Kizner said.
Equality Stafford stressed that the blame and confusion lied with the county, not the teachers. "It is important to highlight that the child's PE teachers are not the bad guys. They are teachers without guidance in a county without guidance for these issues. They were following that they were told to do.
According to the Free-Lance Star, some schools in the district restrict students and staff to using facilities that correspond to their biological gender. While officials at the meeting "expressed a willingness to make things better for LGBT students," the paper says, they "did not approve any changes."
"If there's a real intruder...we don't then start saying, 'You go to the boys' room; you go the girls' room,' " Kizner told the Free-Lance Star. "We would say, 'Go to the nearest secured room.' "
"With drills, we learn to do things better," he said. "And this is a good example of a drill [where] we learned we need to do it better, and that's my commitment."