Good news! Tracy Morgan's condition has improved enough that he's been moved out of the hospital and into a rehabilitation center. He'll stay there for the next few weeks.
"Tracy has been transferred to an undisclosed rehab center, where he is expected to remain for the next few weeks," according to Lewis Kay.

"While he is continuing to show signs of improvement, he still has a long way to go," Kay said in a statement.

Morgan was critically injured in a limo bus crash on the New Jersey Turnpike in the early morning hours of June 7.

The 45-year-old Morgan suffered broken ribs, a broken nose and a broken leg.
Hooray for improvement! Anti-hooray for this tragic accident happening in the first place. [CNN]
---
Honey Boo Boo's ratings have fallen slightly after reports of her "bratty behavior." Reminder: Honey Boo Boo is an 8-year-old child.
Last night's Season Four premiere, an episode entitled "3 Generations and 1 Pork Rind," brought in just 1.73 million American viewers.

That's 260,000 fewer than the last new episode of the show, which aired on March 6, and nearly 1.5 million viewers fewer than the series high of 3.21, recorded for the Season Two finale on September 11, 2013.

More crucially, the show lost viewers in the vital 18-49 age bracket, scoring just 0.6, in comparison to the 1.6 it earned back in 2012.

Could series star Alana "Honey Boo Boo" Thompson's behavior be turning off fans? As Radar has reported, the eight-year-old allegedly acted like a "monster" during a recent appearance on The Tonight ShowStarring Jimmy Fallon, and even struck her mother, Mama June, in front of the audience, according to reports.

Fans hav subsequently taken to Twitter calling for the show's cancellation.
REMINDER: CHILD IS AN 8-YEAR-OLD CHILD. [Radar]
---
The Harry Potter cast reunited at the opening of Diagon Alley! [E!]
OMG OMG OMG OMG OMG Jose Canseco wants to help Justin Bieber "with his life problems." PLEASE CAN THIS BE A REALITY SHOW. [LATimes]
Renly Baratheon is going to play Charles Manson in the "NBC event Aquarius." [DigitalSpy]
Here is Kelly Clarkson's baybay. [Radar]
Katie Couric's bachelorette party included a nice mushroom soup. [E!]
Amber Heard exists. [JustJared]
Brad Pitt and Katie Holmes ran into each other in a London hotel and had a chat about kids and stuff. [Us]
Selena Gomez's stalker has been sent to a mental health facility for 30 days. [TMZ]
Kate Gosselin REALLY doesn't want to keep being on TV, SERIOUSLY: "Hear me very clearly. If there was another way to singly support eight children, you would not know this name and I would be on an island, and so would they. You would never hear from us again." Uh huh. [E!]
Zoe Kravitz opened up about her struggles with her weight. [JustJared]
BYE BYE BYE BYE BYE BYE BYE BYE WEEKEND BYE BYE BYE
Image via Getty.
G/O Media may get a commission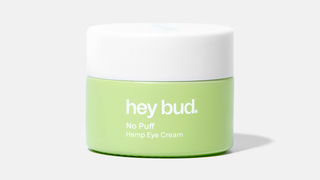 15% off
Hey Bud - No Puff Hemp Eye Cream