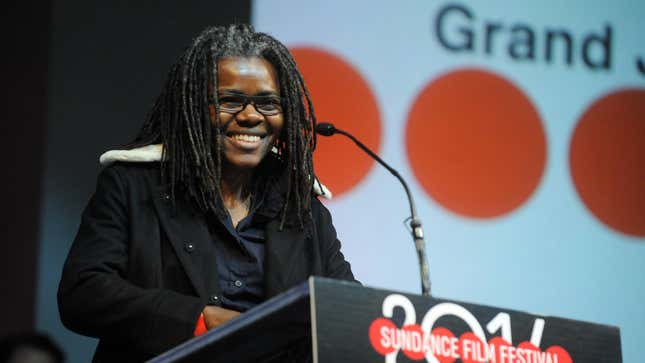 Thirty-five years after Tracy Chapman released "Fast Car," the iconic ode to poverty, aging, and unrealized dreams, the song has just become a No. 1 hit on Billboard's Country Airplay chart, cementing her as the first Black woman songwriter to reach the top since its debut in 1990. How does a three-and-a-half decade old hit manage that? Well, in this case, a white man in a trucker hat decided to sing it. That's right, thanks to Luke Combs' cover of "Fast Car," Chapman has made country music history.
"I never expected to find myself on the country charts, but I'm honored to be there," Chapman told Billboard in a characteristically graceful statement. "I'm happy for Luke and his success and grateful that new fans have found and embraced 'Fast Car.'"
Combs' cover premiered in April 2023 and immediately wracked up 46 worldwide million streams. Apparently, he's even included Chapman's hit in his set lists throughout the years. Only recently, though, did he decide to record a version of the song for his fourth studio album, as he says it's been a "huge part of his life."
"I've always loved it and I think it's the more and more I hear it, especially the older and older I get, it just gets better and better every time," he recently told Apple Music's Zane Lowe. "I loved it when I was five years old and me and my dad used to listen to that album on a cassette tape in the truck. So I loved that whole album, but that song stood out to me."
Is it profoundly cool to witness Chapman receive long overdue acclaim from country radio—an institution that's historically been hostile to Black singer-songwriters (especially to women who don't exclusively sing about their daddy and daydreams about Mr. Right)? Hell yeah. But that it arrived on Comb's cowboy heels is just kind of a bleak dose of reality.
Though I'd love to see more of Chapman—preferably performing her own damn song—I'm glad my girl's at least getting newfound recognition and royalty paychecks.