The so-called golden age of ass has made big butts desired and celebrated in ways we know they very much weren't for black women growing up. A good friend of mine, Tracee Ellis Ross, touched on this childhood insecurity in a recent interview.
As an adult, Ross says she can fully appreciate her lovely butt for what it is, but in the cover story for Health's April issue, she talks about how self-conscious she felt early on and the weird sensation of feeling separate from her own body:
"I love my butt in a way I didn't growing up. I really didn't like it growing up. It was so much bigger than everyone else's, and I wanted jeans to look the way they did on everyone else, and mine didn't. I've been—to a certain extent—at odds with my body for many years, wanting it to be something other than it was, wanting myself to be something other than I was. Then, in my 30s, I started to get comfortable with the largeness of my personality. The same thing with my butt. I tried getting really, really skinny, and I learned that no matter how thin I got, I was still gonna have a butt."
Funnily, now that big butts have been successfully appropriated, plenty of women are going to great surgical lengths to have an ass comparable to hers.
"The comfort in my skin is so much better," says Ross. "I spent so much of my life, culturally, seeing myself through others because I just didn't always have the confidence to look at the world through my own eyes. As opposed to the 'shoulds.'"
G/O Media may get a commission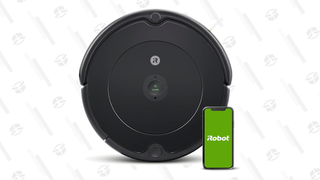 35% Off Black Friday Deal
iRobot Roomba 694 Robot Vacuum