It's been a long week, and we could all use a break. Thankfully, there's a new Q&A with perfect angel Tracee Ellis Ross on Deadline, and it's full of quotes I want to print out and frame on my wall and always carry with me in spirit. Like how the Emmy-nominated actor challenges her colleagues on Black-ish by asking if the chores written into her character Rainbow's lines are really necessary:
"I'm the person on Black-ish who does constantly say, I've now coined it 'lady chores.' They get so sick of me. But I always ask, "Is it necessary for me to be doing this? Is it pivotal to the story that we're telling that I'm in the kitchen cooking? Can't I just be sitting here with my laptop and a glass of wine?"
A good question! As James once told Lala on Vanderpump Rules, it's not about the pasta! (Cooking it, I mean.) It's about representation:
"Not because there's anything wrong with a woman cooking. I cook all the time, but because I look at the larger perspective of the story that is being told across television in general, and how can we continue to balance the scale of what has been out of balance?"
Ross also weighed in on how the career/marriage binary for women doesn't really exist anymore and how it's kinda dumb that we keep talking about it that way. She explains that she's never "picked" one over the other, and probably, neither did many of the women you know in your personal life:
"I don't know if I feel judged, but that certainly is a paradigm that we're all still breaking through. Both in how we language it…I mean, even someone today really, truly meant to be supportive in what she was asking, but unconsciously still framed it in a way that was, 'I know that you've chosen your career over having a family.' And I was like, 'No, I haven't!' I was like, 'There was no point in my life where I chose career over a relationship, or over having a child. This just happens to be where I've landed.' So I think it's not the fault of every individual. I think it really is a systemic response to culture's way of having an expectation of women within patriarchy and all of that."
G/O Media may get a commission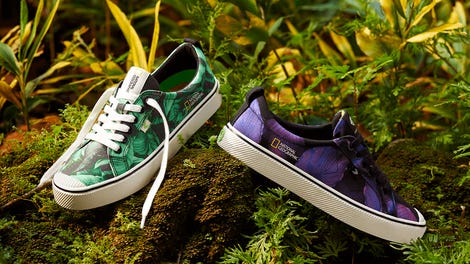 New New New
Cariuma + National Geographic
Every time someone calmly and publicly acknowledges the patriarchal shackles that bind us all, my skin magically clears up.
I also appreciated how Ross deftly explained what it feels like to navigate this world of endless choice, even as a woman who's found success in her field, and how it's not always easy to do:
"I think we are one of the first generations of women that have a lot more choices and that can actually make some of those choices [carefully]. You know? Which I find both daunting and exciting.

There's a lot to navigate through, and there's shame and stigma."
Also, in the middle of the interview, Ross referred to Kerry Washington as her "famous friend" and said she called Washington when she needed advice on directing an episode of Black-ish:
"Obviously people pick up on the fact that I called a famous friend, but I also call a lot of other people!"
I can't relate to her being friends with someone as famous as Kerry Washington, but I deeply enjoy hearing about it.