Apparently Trace Adkins was on a country music cruise to Jamaica when he ran into a Trace Adkins impersonator, dressed as Trace Adkins, doing Trace Adkins karaoke (probably) in the ship's bar. Then Trace Adkins—who has struggled with alcohol abuse in the past—punched fake Trace Adkins in the face for undisclosed reasons.
Sources tell TMZ ... Trace was headlining a country cruise headed to Jamaica. He was in the bar when something happened between him and a Trace impersonator who was doing Karaoke. Trace — who had been sober for 12 years — had fallen off the wagon and got into a physical fight with the impersonator.

We're told once the boat docked in Jamaica ... Trace jumped ship. We're told he's now in rehab.
Best of luck to Mr. Adkins with his rehabilitation and to the other Mr. Adkins with whatever it is that caused him to become a professional fake Trace Adkins. [TMZ]
---
Lorde says that the reason she seems to have so much bravado is because she's actually "paralyzingly nervous."
"I get paralyzingly nervous a lot of times, so I tried bravado," the "Royals" singer, pulling that from the "me found bravery in my bravado" line from Kanye West's "Dark Fantasy," says in the latest issue of Rolling Stone.

The New Zealand-born beauty, whose real name is Ella Yelich-O'Connor, also makes her RS cover debut in goth-dark lipstick and a nod at punk rock via a Cramps T-shirt.

"The way I dress and carry myself, a lot of people find it intimidating," Lorde says. "I think my whole career can be boiled down to the one word I always say in meetings: strength."
G/O Media may get a commission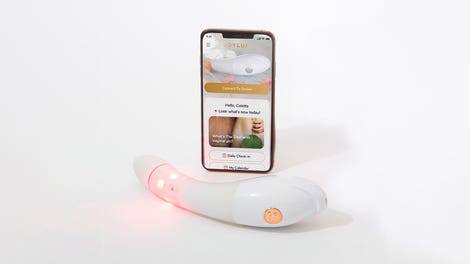 $50 Off
Joylux vFit Gold Device
Okey dokey! [E!]
---
Josh Duhamel would like you to please stop saying that he's trying to break up the Black Eyed Peas. He's not. IN FACT, JOSH DUHAMEL INFECTED THE BLACK EYED PEAS WITH VAMPIRE BLOOD SO THEY WILL NEVER EVER DIE AND WILL JUST KEEP MAKING MUSIC TOGETHER UNTIL OUR SUN BECOMES A RED GIANT AND EARTH CRUMPLES INTO A MOLTEN HELL.
A source for RadarOnline said the Safe Haven star, 41, was being a supportive hubby by creating a rift between his wife and her fellow hitmakers: "She can re-invent herself as a solo artist without the looming specter of will.i.am influencing every creative decision she makes," the insider told the site.

But Axl Jack's angry pops slammed the allegations as false on his Facebook page Tuesday, Jan. 14. "Don't believe this bulls—t. Not true," he wrote, along with a hyperlink to the offending report.
WILL.I.WAS, WILL.I.AM, AND WILL.I.E'ER WILL BE. [Us]
---
Images via Getty.