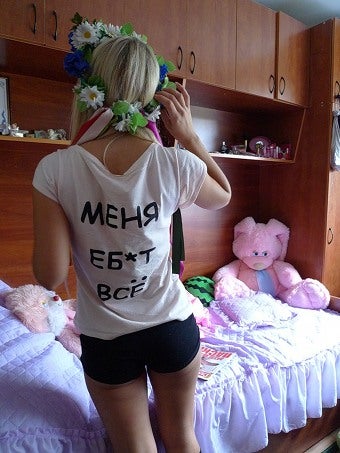 Perhaps you've heard of frequently-topless kamikaze Ukrainian feminist collective FEMEN. And if you've ever wondered, say, how they eat between arrests and protests, Animal New York has your answers, thanks to their behind-the-scenes tour.
The collective, a cause celebre in its home country, has embraced causes ranging from sex tourism to the parental rights of porn stars, and has done most of it topless. According to the piece, the women are almost all under 20, which makes sense since they live on a kindness-of-donations shoestring in a share house (they say their publicity has made finding work impossible, which makes one wonder about their plans to run for seats in the next parliamentary election. )
Of founding the organization, 27-year-old Anna Hutsol has said, "I set up FEMEN because I realised that there was a lack of women activists in our society; Ukraine is male-oriented and women take a passive role." The stated mission of FEMEN is "To develop leadership, intellectual and moral qualities of the young women in Ukraine" and "To build up the image of Ukraine, the country with great opportunities for women." To those who'd argue that going topless might be in opposition to this goal, they'd say: ends justify means. "This is the only way to be heard in this country. If we staged simple protests with banners, then our claims would not have been noticed." And, anyway, people aren't looking at their boobs! "Our traditional flower wreathes are our trademark as much as our tits," they tell Animal.
Going Home With FEMEN [Animal New York]