24-year-old right wing darling Tomi Lahren went on the Daily Show last night, where she and Trevor Noah had an illuminating conversation about what she thinks Black Lives Matter is about and what she thinks constitutes peaceful protest in America. Today, she is suggesting that the interview was both a smashing success and deeply unfair to her. I'm really enjoying getting to know Tomi, you?
Lahren's interview was full of highlights — a suggestion that Colin Kaepernick isn't protesting appropriately, a lack of suggestions about how Colin Kapernick might protest appropriately, an insistence that Tomi doesn't "see color"—all of which we know about because the full 26-minute extended interview was posted online.
The Daily Show is roughly 22 minutes long and everybody, including sitting presidents and extremely easy Halloween costume idea Tomi Lahren, has their interview edited. (Blonde wig, statement jewelry, booming statements about supporting the police delivered through your clenched jaw.)
A couple hours later, Lahren, who participated in a Jezebel-sponsored panel at this year's Politicon, located that link to the full interview.
G/O Media may get a commission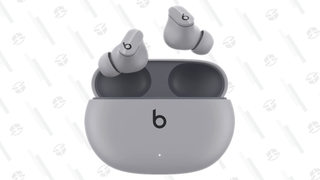 She also thanked Breakfast Club host Charlamagne the God for his kind words:
... Which is interesting, because TMZ is reporting that Lahren has cancelled a scheduled Breakfast Club interview:
Tomi's camp tells us her interview with "The Breakfast Club" was not set in stone, but Charlamagne is calling BS, saying he believes Tomi's employer, The Blaze, pulled the plug after she got skewered by Trevor Noah Wednesday night.
On the other hand, Lahren also recently cancelled a planned interview with Jezebel, citing her packed schedule.