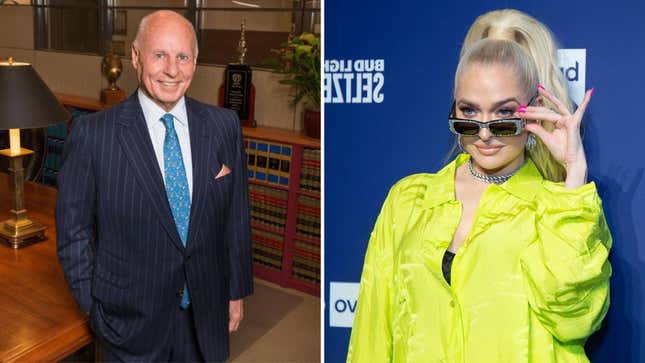 These days, it's fairly common for Bravolebrities (or their bands of camera-ready family and "friends") to be indicted in a court of law, but it's pretty rare that these criminal charges bring as much satisfaction to audiences as Tom Girardi's.
On Wednesday, the former high-powered attorney and husband of Real Housewife of Beverly Hills villain Erika Jayne, was indicted in Chicago on eight counts of wire fraud and four counts of criminal contempt of court and in Los Angeles on five counts of wire fraud. The Chicago charges stem from his alleged misappropriation of funds—more than $3 million—in settlements awarded to relatives of victims killed in the tragic crash of Lion Air Flight 610.
If that sounds confusing, allow me to clear it up for you: Through their law firm, Girardi Keese, Girardi and his colleague (and son-in-law) David Lira, represented five clients—all of whom were family members of passengers killed in the 2018 crash—and filed lawsuits in federal court in Chicago against the plane's manufacturer, Boeing. The suits were settled in 2020, with a judge ruling that Boeing was to pay substantial sums of money to each relative. That money, intended for distribution, was sent via wire to their firm's trust account, but Girardi and Lira didn't distribute it. Instead, they put it toward improper purposes: maintaining the firm's payroll and operating expenses and fulfilling settlements to their other clients, whose own settlement funds had been mishandled.
When clients asked about their money, Girardi Keese blamed the pandemic for the delayed distribution and fraudulently claimed to have "serious issues" with Boeing—even though they'd already received the money. The filing states that the defendants are owed a total amount of $3,069,500.
"The substantial misappropriation alleged in this indictment compounded the grief and anguish of the clients who lost loved ones in the Lion Air crash," said U.S. Attorney John Lausch Jr. "Attorneys who violate the trust of their clients and breach a fiduciary duty that is paramount to the practice of law must be held accountable."

In Los Angeles, prosecutors say that Girardi, along with the firm's controller and chief financial officer, embezzled over $15 million from clients and used the money to pay American Express bills and other personal expenses.
These latest charges are just some of the many legal woes Girardi faces, as has been showcased on the Real Housewives of Beverly Hills for the last two seasons. He remains technically still married to Erika Jayne, though she left him in 2020, and he's been diagnosed with Alzheimer's and dementia and placed under a conservatorship. Jayne has shirked all responsibility for his fraudulent behavior, though she no doubt benefitted from his fortune. Until late 2022, for instance, Jayne famously refused to forfeit a pair of diamond earrings Girardi gave her until a judge ruled she had to. Last season, she also sowed doubt in the claims of Girardi's clients: Just "because someone said something, does not make it true," she said.
Meanwhile, court-watchers and fans of the franchise rejoiced on Wednesday. At the very least, these developments should make for an...interesting next season.