In a very brave and inspiring move, Olympic diver Tom Daley has come out as bisexual via a video posted to his YouTube channel.
As Daley told fans:
Come spring of this year my life changed — massively — when I met someone and it made me feel so happy, so safe, and everything just feels great, and well, that someone is a guy. And it did take me by surprise a little bit. It was always in the back of my head that something like that could happen, but it wasn't until spring this year that something that just clicked, it felt right, and I was like, OK. And like I said my whole world just changed right there and then. Of course I still fancy girls, but right now I'm dating a guy and I couldn't be happier. I just feel safe. And it just really does feel right.
Of course (as Daley himself points out), in a perfect world, he wouldn't have to come out at all because it wouldn't matter what his sexual orientation is. Unfortunately, this isn't a perfect world so good for him. Being this open and honest must have taken a lot of courage. That said, I wish he would publicly come out as a NINETEEN YEAR OLD BABY before we all got so inappropriately into this gif.
Oh, and if you're looking to write up some Tom Daley/One Direction fan fiction, here's a friendly reminder that you have pretty big shoes to fill.
[Via Twitter, images via Getty]
---
G/O Media may get a commission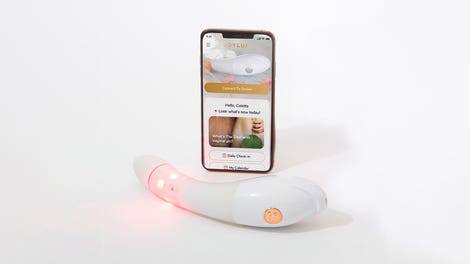 $50 Off
Joylux vFit Gold Device
Gwyneth Paltrow's memory of a childhood Christmas is predictably humble and accessible:
"I remember being probably about 4 years old and coming down and my presents were so tall, they were taller than I was. It was this incredible moment where Santa Claus had brought me all of these presents and it was the most astounding thing to have a mountain of presents that was taller than myself."
When I was a girl, I was given a rag doll made out of chicken bones and tuberculosis rags, but you know what? I was grateful! GRATEFUL.
---
Rita Ora — WHO WILL NEVER BE BEYONCÉ NO MATTER HOW HARD SHE TRIES — has been cast as Christian Grey's sister in the 50 Shades of Grey movie. Total un-Beyoncé move, Rita.
Remember how good Carmen: a Hip Hopera was? 50 Shades will be the opposite of that good. [Deadline, image via Getty]
---