I swore I wasn't going to lead with any Tomkat news today (because oops my brain liquefied from boredom and dripped out my ear all gross), but then the other celebrities had to go and be HELLA UNEVENTFUL. Blame all non-Tomkat celebrities, not me. Anyway, an ex-Scientologist lady told E! that Tom Cruise is "viewed as a complete god" within the "church." Why? "Because of his influence," she explained. "He was awarded the meritorious award of valor...He's viewed as integral." Oh, the meritorious award of valor, you say!!!??! And this whole time I thought we were dealing with some non-integral, meritricious yahoo. Carry on, Tom. Carry on. [E!]
Meanwhile, confounding all expectations, it has been confirmed that Katie Holmes is NOT DEAD, despite no longer being married to that meritorious valedictorian that she didn't want to be married to. Yes, E!, "Katie Holmes certainly proves life does go on after Tom Cruise"! (Fun fact: Nicole Kidman is a ghost and Mimi Rogers is a dementor.) [E!]
And finally, TMZ has uncovered some Suri-related details of the pair's divorce settlement:
— Katie will have what amounts to primary physical custody, but Tom has significant custodial time with his daughter.

— A report claiming that Suri must be in the presence of Katie's bodyguard and nanny when she is around Tom is "absolutely, 100% false."
— The custodial provisions of the agreement are extremely detailed, and religion is one of the topics. We're told there are restrictions on what Tom and Katie can discuss with Suri on the subject of religion, including Scientology, however, those restrictions are eased the older Suri gets.
So glad to hear all of that, as it is obviously 100% our business. [TMZ]
---
G/O Media may get a commission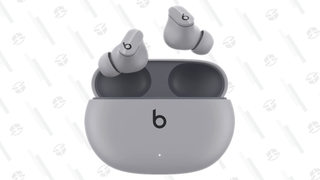 Jamie Oliver's wife of 12 years, Jools Oliver, revealed that she checks his e-mail and phone to make sure he isn't cheating on her: "Yeah, I'll check his email. I'll check his Twitter. I'll check his phone. Everything seems fine," she said. "He says I'm a jealous girl, but I think I'm fairly laid-back, considering." Except that's weird, because back in 2008 everyone clowned on her because she was like, "I am very secure. People say 'Oh you can't trust a man 100 per cent,' but I'm afraid I say I can. They say every man will have an affair, but I really don't think mine will. Actually, I know he won't." So which is it? Whatever's going on, I think we can all agree that it sounds supes healthy (just like his cracking baby yorkshire puddings with creamy smoked trout!). [News.au]
---
Michael Caine does a Michael Caine impression. Michael Caine does a Michael Caine impression. Michael Caine does a Michael Caine impression. Michael Caine does a Michael Caine impression. Michael Caine does a Michael Caine impression. Michael Caine does a Michael Caine impression. Michael Caine does a Michael Caine impression. Michael Caine does a Michael Caine impression. Michael Caine does a Michael Caine impression. Michael Caine does a Michael Caine impression. Michael Caine does a Michael Caine impression. [Vulture]
---
Celebrities including Tom Hanks, Meg Ryan, and Meryl Streep gathered with other mourners to remember Nora Ephron today at Lincoln Center's Alice Tully Hall. Streep spoke, expressing her dismay at Ephron's seemingly sudden passing (after a secretive illness): "She pulled a fast one on us. I feel so privileged to speak, but I'm also pissed off...Sometimes, you have to wait until your friend leaves the room to say how great she is." Other speakers included Rosie O'Donnell and Delia Ephron. And the rest of the star-studded guest list wore out my bolding-finger: "Other guests included fellow helmers Steven Spielberg, Martin Scorsese and Rob Reiner; actors Lauren Bacall, Alan Alda, Annette Benning, Martha Stewart and Al Franken; and media figures like Tom Brokaw, Tina Brown, Diane Sawyer, Charlie Rose and Barbara Walters." RIP, Nora. [E!]
---