Last week, we asserted that the recent bomb The Mummy should have been about the freaking mummy. According to a juicy, anonymously sourced Variety report on what went wrong, it was initially supposed to be. That is until its star, Tom Cruise, ordered rewrites that gave his bland adventurer character even more screen time.
Hubris strikes again! Variety notes that Cruise, who had "nearly complete creative oversight" on the flop, commissioned screenwriters to revise a script and that two of these writers—Christopher McQuarrie and Dylan Kussman—were "close allies" of Cruise who did what close allies do in situations like these:
His writers beefed up his part. In the original script, Morton and the Mummy (played by Sofia Boutella) had nearly equal screen time. The writers also added a twist that saw Cruise's character become possessed, to give him more of a dramatic arc. Even though Universal executives weren't thrilled about the story — which feels disjointed and includes Russell Crowe as Dr. Jekyll — they went along with Cruise's vision.
Variety also claims that Cruise had a hand in directing the movie:
In the wake of The Mummy's failure, the decision to tap such an untested director on a sprawling action-adventure seems to have been foolhardy...As Alex Kurtzman struggled to adjust to scope of the project, it felt more like Cruise was the real director, often dictating the major action sequences and micro-managing the production, according to sources.
G/O Media may get a commission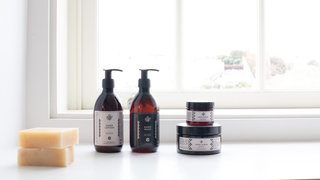 Exfoliate and Hydrate
The Handmade Soap Company
Cruise also oversaw editing:
Once the film was done, Cruise brought in his longtime editor Andrew Mondshein to piece together the final picture. (The film's credits also list Gina and Paul Hirsch as editors.) He spent time in the editing suite overseeing the cutting, which everybody agreed wasn't working. On the lot, there were differences of opinions about whether Cruise's directions were improving a picture that had been troubled from its inception or whether they were turning a horror film into a Cruise infomercial. Some believed that Cruise had no choice but to assert himself. Given Kurtzman's inexperience directing tentpoles, Cruise, who has carried heavily choreographed action movies all his life, had to try to rally the troops or risk having the production fall behind schedule.
Variety makes the interesting point that even though Hollywood's "star system is in tatters," with superhero movies and other franchises proving to be financial sure bets rather than the actors who topline movies, on the set of The Mummy "Cruise acted like the top gun he once was." And while this is all effectively gossip, it seems so plausible given how out of touch The Mummy is with modern sensibilities, especially in its focus on Cruise's bland character that you're supposed to like simply because he's played by Cruise.
When reached for comment, Universal, which released The Mummy, gave Variety this statement:
Tom approaches every project with a level of commitment and dedication that is unmatched by most working in our business today. He has been a true partner and creative collaborator, and his goal with any project he works on is to provide audiences with a truly cinematic moviegoing experience.