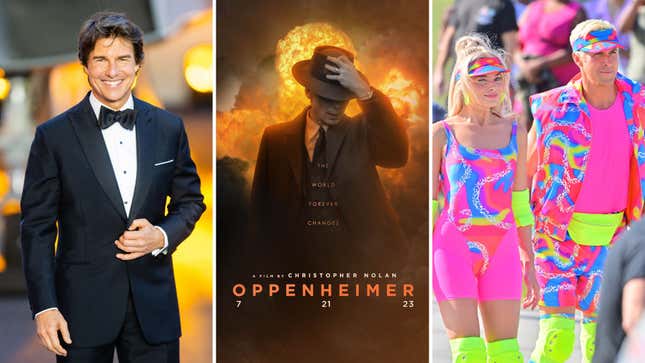 Over the last year, we've collectively witnessed a quiet yet unlikely feud between physicist J. Robert Oppenheimer and Mattel's seminal one-foot-tall plastic woman, Barbie. The two films, opposite in nature, are set to be released the same mid-summer Friday, July 21, cosmically linking them in the cinematic universe.
'This Is Not a Light Time to Be a Queer Person': On Pride History and Saturday's Dyke March
A confusing quote by Cannes festival director Thierry Fremaux had fans briefly thinking Christopher Nolan's Oppenheimer—about the creation of the atomic bomb—would be released at a later date so it wouldn't step on the iconically arched feet of Greta Gerwig's Barbie. This led fans to prematurely declare Barbie supremacy, a real girls rule, boys drool moment. But in actuality, both films will still come out on the 21st, providing us with the most paradoxical double feature opportunity of our fleeting lives.
Just as the non-feud seemed somewhat settled, something appeared in the distance. Is it a plane? Is it a motorcycle? A skydiver? Oh, it's actually a skydiver jumping out of a plane onto a motorcycle. It's Tom Cruise.
How is this little manic Scientologist involving himself? Well, on July 12 Cruise's Mission: Impossible—Dead Reckoning Part One, a title that evokes frankly zero curiosity or excitement in me, will be released. MI, produced by and starring Cruise, cost nearly $300 million to make. But that big-boy budget isn't safeguarding it from getting bumped from IMAX theaters by Oppenheimer.
MI will enjoy about a week of being the biggest, baddest film in IMAX theaters before the atomic bomb movie blows it out of the way. Oppenheimer has a three-week exclusive deal with IMAX.
According to Puck News, Cruise has been "furiously showing the film to exhibitors in an effort to convince them to switch their plans from Oppenheimer or Barbie." After being praised for "saving Hollywood's ass" (Steven Spielberg's words) last year with Top Gun: Maverick, the stunt-ologist feels like he's owed the theater space for his car chase-explosion-big gun movie. He's "personally calling around to exhibition and studio executives, per multiple sources," writes Puck. "According to one top exec, Cruise has asked rivals to relinquish P.L.F.s (premium large format theaters) or even move their release dates for the good of the entire theatrical business."
Stay mad, Tommy! It's an Oppenheimer/Barbie world and life is both plastic and fantastic in it.
---