On its face, Martin Scorsese's open letter to his 14-year-old daughter Francesca is a sweet, if random one. He wants his daughter to derive joy from cinema just like he did, and maybe, even make a career of it. Too bad that when he lists the directors that are shaping cinema today, he neglects to mention a single woman. In a letter to his daughter.
Here is the letter's offending paragraph:
I don't want to repeat what has been said and written by so many others before me, about all the changes in the business, and I'm heartened by the exceptions to the overall trend in moviemaking – Wes Anderson, Richard Linklater, David Fincher, Alexander Payne, the Coen Brothers, James Gray and Paul Thomas Anderson are all managing to get pictures made, and Paul not only got The Master made in 70mm, he even got it shown that way in a few cities. Anyone who cares about cinema should be thankful.
The irony, right? And as Flavorwire's Michelle Dean points out, Scorsese has even supported female directors before, executive producing Allison Anders' Grace Of My Heart.
But if little Francesca were to get into film or television directing someday, would her path be easy? Sure, she has a leg up in the nepotism department, but if she were just some ordinary girl, would it be possible for her to build an illustrious Hollywood directing career?
G/O Media may get a commission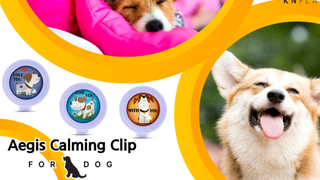 20% off
Aegis Calming Clip for Dogs
If current coverage and past Jezebel posts are any guide, then no. We've been talking about the lack of women directors since 2009, and in 2013, there were still 1 working woman director for every 15.24 male ones. Jane Campion, who was just named as head of the Cannes' Film Festival's 2014 jury, is the only female director to win the Palme D'Or, and has spoken out about how festivals like Cannes could more easily recognize women directors, if more films with women at the helm were actually financed.
Then there's the routine sexism. Remember that time when Bret Easton Ellis said that women are inherently unable to direct because cinema needs the male gaze? And how Mary Harron directed a critically acclaimed adaptation of his novel, American Psycho, but refused to admit that she was good?
Oh hey, Scorsese! There's another woman director you could've mentioned.
What's more, in actress (and first time director) Eden Sher's essay about women's "pervasive aversion to directing, she quotes one of the female directors on her show, The Middle, as describing how just hostile it was for women directors in Hollywood in the 1980s:
If directing in general was difficult for females to break into, the world of comedy TV was Fort Knox. Television production is fast-paced and high-pressure; male producers in the 1980s didn't believe a woman could handle the do-or-die environment. These skeptical men set their standards twice as high for women; leeway for mistakes was nonexistent. Any trace of femininity was not tolerated, Chemel told me. After all, working with a woman was bad enough — a woman who actually acted like a woman was intolerable. Any sign of emotion? She must be on her period. Not aggressive enough? Fired. Too giggly? Buh-bye. One time, Chemel felt she wasn't really clicking with a main actor, so she took him aside to ask him what the problem was. He told her outright "I don't like being told what to do by a woman."
And forget the sexism of the 80s. As recently as two years ago, it was still acceptable for Hollywood producers, directors, and screenwriters to express outright misogynist opinions like women, such as the opinions that have shaped Anna Faris's career, seemingly for the worst. But even if things have gotten better today, Sher also recounts how she worked on a sitcom with only two female staff writers, and how the male executives were otherwise progressive thinkers, but would hire who they knew, e.g. other white men. And she mentions that many of her female colleagues have internalized the belief that women can't direct, including herself, when she was at the helm of a short film in 2012:
I was neither fearless nor powerful. The first day of shooting, my mannerisms undermined my authority. I was directing, technically, but every order I gave came with an apology: to my director of photography when I wanted him to reshoot something, to my lead actress any time I wanted her to slightly tweak her performance, even to my sound guy when he accidentally stuck his boom mic in the shot ("I'm sorry to ask you to fix this big mistake…"). I had turned into this fearful, powerless, shrunken speck of a human, and it took me fourteen hours to realize how I was behaving. At the end of day one, my lead actress stopped me mid-sentence. "Eden, why are you so afraid to direct right now? You are the director. Direct me."
Whether overt or not, external or internal, women—and especially women who want to direct—have to fight against an institutionalized sexism from all sides in this industry.
So where does Martin Scorsese fall? Maybe he takes a misogynist attitude like Ellis, and doesn't care for women directors and their films, even ones he's produced. Maybe he knew what he was doing by listing directors who get their work financed, which, as we mentioned before, is a significant problem for Wes Anderson and Richard Linklater's female counterparts. Maybe he truly couldn't think of any women, for the reasons listed and then some. The problem is then that despite the heavy odds against them, directors who just happen to be women have also broken barriers in the recent past, like Kathyrn Bigelow, and the Emmy Awards recognizing women for half its episodic directing nominations, even when they directed only 15% of TV episodes during the 2011-2012 season.
God knows that Scorsese isn't the only person to make this oversight. The Wire published a whole post about how some other white men were snubbed by the Directors Guild of America, as if Spike Jonze and Alexander Payne have struggled with recognition on the level of women or people of color in their industry. Of all people, though, Scorsese should know better, given how much of a legend and power player he is, and since he is writing to his friggin' daughter.
So Marty, if you want to be more inclusive the next time you publicly espouse how bright cinema's future is, here's a cheat sheet of women directors you could acknowledge (in addition to the already mentioned ones), with some of their notable films:
1. Debra Granik (Winter's Bone)
2. Nicole Holofcener (Enough Said)
3. Andrea Arnold (Fish Tank)
4. Sofia Coppola (The Bling Ring)
5. Lynne Ramsay (We Need to Talk about Kevin)
6. Ava DuVernay (Middle of Nowhere)
7. Julie Delpy (Two Days in New York)
8. Lynn Shelton (Touchy Feely)
9. Sarah Polley (Away From Her)
10. Haifaa al-Mansour (Wadjda)