On this day in 1960, six-year-old Ruby Bridges was escorted into William Frantz Elementary School by a team of U.S. Deputy Marshals, desegregating the public school system of New Orleans.
The landmark Supreme Court decision Brown v. Board of Education was handed down in 1954, but of course school systems across the Jim Crow South delayed as long as possible. The Little Rock Nine started at Little Rock Central High School in 1957, and in 1960 the federal courts informed New Orleans they had to start the process. And so Ruby started her first-grade year at the previously all-white school. Three other African American girls started at nearby McDonogh No. 19, as well.
"Driving up I could see the crowd, but living in New Orleans, I actually thought it was Mardi Gras," Bridges remembered in a 1997 interview with PBS NewsHour. "There was a large crowd of people outside of the school. They were throwing things and shouting, and that sort of goes on in New Orleans at Mardi Gras."
"I really didn't realize until I got into the school that something else was going on. Angry parents at that point rushed in and took their kids out of school," she added. All year she was taught in a classroom by herself.
The white parents who continued to send their children to William Frantz were harassed, as well, The Times-Picayune recalled at the fiftieth anniversary in 2010:
Gabrielle's mother, Daisy Gabrielle, now 92, was called a communist and countless racial epithets, and she was told that her child could get a disease from being in an integrated school. She had reluctantly removed Yolanda from school early on that first afternoon, fearing for the girl's safety. But that night, she decided it wasn't right to give up, so she took Yolanda back the next morning. "It was the principle of the thing," she said.

Protesters holding Bibles often surrounded the Foremans' parsonage, sometimes even throwing rocks at the family pet, which was black and white and thus "an integrated dog," she said.
G/O Media may get a commission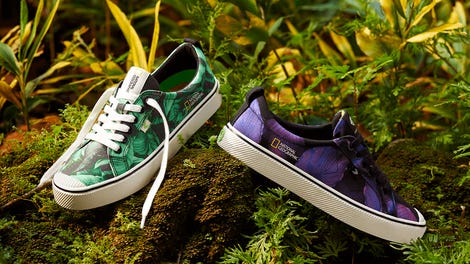 New New New
Cariuma + National Geographic
Bridges was immortalized in the 1964 Norman Rockwell painting, The Problem We All Live With. Smithsonian magazine recounts how he departed from the real-life photographs, adding the vandalized wall to create an image that would inform how America thought about the Civil Rights Movement:
Many subscribers to the magazine, especially those who lived in the South, wrote furious letters to Look. But over time The Problem We All Live With would come to be recognized as a defining image of the civil rights movement in this country. Its influence was profound. Ruby would reappear in many guises in American culture, even in musical comedy. "That painting he did about the little black girl walking—that's in Hairspray," recalled John Waters, the director and writer of the film. "That inspired L'il Inez in Hairspray."

In 2011, the painting was put on display at the White House and Ruby Bridges Hall visited with President Barack Obama; "I think it's fair to say if it hadn't been for you guys, I might not be here and we wouldn't be looking at this together," he told her.
Of course, for all the painting was titled, "the problem we all live with," it was six-year-old Ruby Bridges who had to make that walk.