It's true! It's true! It's happening and it's true and modern Briterature (SORRY) will never be the same. Britney Spears—our Brit Brit!—is currently in negotiations with Harper Collins to pen the next Great American Novel. One can only presume it has something to do with the Old Lady Who Drops It Into the Ocean at the End going on an epic road trip with Anson Mount's Weird Mono-Nostril to the denim tuxedo factory where they time-travel-speed fast enough to take down all the people who are ahead of uuuuuuuus. The working title is, "HUUUUUHHHHHH!?!?!?!?!?" I spent literally all afternoon trying to come up with a fake Britney Spears book proposal that would do comedic justice to the concept of a fake Britney Spears book proposal, but it just isn't possible. If you guys want to give it a shot, put 'em in the comments. Writing exercise!!! Anyhoo:
Spears does have some writing experience under her belt since she collaborated with her mother back in 2000 for her book, "Britney Spears' Heart to Heart," which was not only about Spears' rise to fame, but the challenges facing mothers and daughters.

According to The Hollywood Reporter, if the deal does get confirmed, the book will most likely be a work of fiction that will incorporate elements of Spears' real life. The book will take on a similar styling to MTV star Lauren Conrad's 2009 New York Times bestseller "L.A. Candy," which was based loosely off Conrad's life about a young woman who moves to Los Angeles and becomes a star of a reality show.
While obviously I would prefer it to have some supernatural and/or dystopian elements a la that FUCKMAZING Tyra Banks Hunger Games rip-off, I will accept a Britney-penned L.A. Candy franchise. God, I just root for her SO MUCH, you know? I really really really really love you, Brit. [MTV]
---
Dourtney Hutchystudd have been banished from Couples Therapy for being gross and naked, but now the rest of the cast is in trouble for bullying them:
"Courtney and Doug are human beings," she says, on the verge of tears, she is so angry. "She's a young woman who is still trying to make sense of the world."

As for the bullying, Dr. Jenn claims that the 17-year-old and her actor husband were victims of a nasty barrage of comments and actions from their castmates.

"The way you behaved shocked me. In 20 some odd years of doing therapy never ever have I seen people regress like this into such adolescent behavior," she says.
G/O Media may get a commission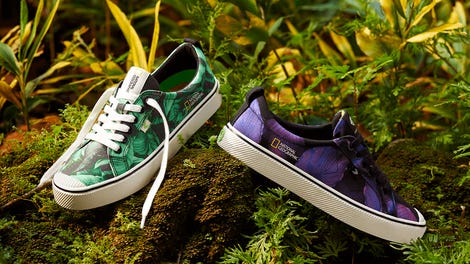 New New New
Cariuma + National Geographic
Yes, I expected better from you, cast of VH1's Couples Therapy. [Radar]
---
Nigella Lawson recently came forward with a harrowing story of being abused by her mother as a child:
"She was funny but depressed and so sensitive to noise. The sound of a plastic bag being crinkled would send her deranged. She'd shout at all of us and say, 'I'm going to hit you till you cry', and so I never would cry. I still don't.

"It wasn't a calculated thing; it was hot-blooded hitting, a thrashing out of things. Once she had to stop hitting Dominic [Nigella's brother] as she hurt her hand.

"She just didn't like me; maybe because I came after Dominic the princeling and I was my father's girl she was jealous, I don't know.

"I would say I'm sorry for whatever it was, some mess, and she'd say, 'Why do you think being inconsiderate is an excuse?"'
:'''( [News.au]
---