Only a week after Donald Trump, a walking pile of reanimated roadkill, said Judge Gonzalo Curiel's ruling to have the Trump University records unsealed for trial was influenced by the fact that he "might be Mexican," the presumptive GOP nominee has made it known that he thinks Muslim-American judges would not judge him objectively, either.

In an interview with host John Dickerson on CBS' Face the Nation, the man who currently faces a lawsuit from 5,000 former acolytes of his real estate school, relayed to the anchor without any sense of irony whatsoever that he believes judges with either Mexican or Muslim heritage would exert a sense of bias in court due to his anti-Muslim and anti-Mexican policies.
Trump first told Dickerson that while it's "all fine" that Curiel—who was born and raised in Indiana—can be proud of his Mexican heritage, it somehow means he is allergic to impartiality:
[Curiel] is a member of a club or society, very strongly pro-Mexican, which is all fine. But I say he's got bias. I want to build a wall. I'm going to build a wall. I'm doing very well with the Latinos, with the Hispanics, with the Mexicans, I'm doing very well with them in my opinion.
But Trump had to go even further and mention his abject Islamophobia. Dickerson then discussed with the presidential hopeful about whether Trump's proposed ban on Muslims entering the U.S. would also affect his ability to receive fair judgment from a Muslim judge.
"If it were a Muslim judge would you also feel like they wouldn't be able to treat you fairly because of that policy of yours?" asked Dickerson.

G/O Media may get a commission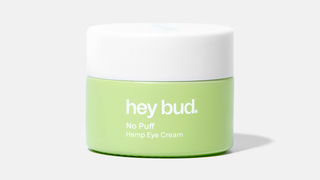 15% off
Hey Bud - No Puff Hemp Eye Cream
"It's possible, yes. Yeah. That would be possible, absolutely," Trump, a deflated days-old birthday balloon, replied.
Dickerson then asked the presumptive GOP nominee whether he agreed with the traditionally American ideal that "we don't judge people by who their parents were and where they came from," to which Trump more or less responded "nah":
I'm not talking about tradition. I'm talking about common sense, okay? [Curiel's] somebody, he's proud of his heritage. And I think that's great that he's proud of his heritage. … You know, we have to stop being so politically correct in this country. And we need a little more common sense, John. And I'm not blaming. I'm proud of my heritage, we're all proud of our heritage. But I want to build a wall.
All I can say is that if you want to build a wall, that's what your collection of old Legos and your living room are for.
---
Contact the author at jamie.reich@jezebel.com.

Image via Getty.