TMZ cannot be bothered to fuck around with Jared Leto and his copyright infringement lawsuits. The gossip site responded this week to Leto's suit, which he filed in December after TMZ ran a video of him slamming Taylor Swift.

"Fuck her. I don't give a fuck about her. It's whatever works best for us," he said in the video, which was shot as he appeared to be taking in Swift's album 1989 for the first time. Harsh words from a man who looks like a grunge-afflicted My Little Pony, but that's beside the point.
TMZ, of course, is nonplussed. From Buzzfeed:
In court filings Tuesday, the celebrity news website said the rightful owner of the controversial footage is videographer Naeem Munaf, from whom the video was purchased for $2,000. Munaf was not Leto's employee and under no contractual relationship with Leto when he shot the video with his own equipment, TMZ argues.
Munaf reportedly refused to sign a release confirming that he had the right to sell the footage, and the website ran it anyway, because of course it did.
G/O Media may get a commission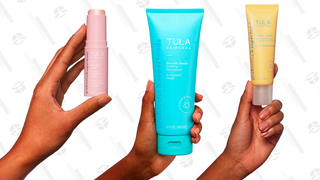 Leto is seeking damages, in addition to demanding that the video be taken down.

[Buzzfeed]
---
Justin Theroux's #wcw selection is his wife, Jennifer Aniston, who is not pregnant but is, in fact, fed up.
[People]
---
Image via screengrab