Uh-oh: in a recent interview with an Australian radio station, T-Boz and Chilli of TLC slammed Rihanna for wearing revealing clothing all of the time.
"Every time I see you, you don't have to be naked," T-Boz said. "It's hard for us to say anything because any time we do, they say, 'Oh, TLC must be jealous,' but it is what it is. I call a spade a spade. We became the biggest selling girl group with our clothes on, and that says a lot. It's easy to sell sex. We could go around with booby cakes all day long."
Ugh, I thought female celebrities publicly criticizing each other over how much fabric they choose to put on their bodies was so 2013. Sigh. Guess not. [ONTD]
In response, Rihanna (in a very typically Rihanna fashion) changed her Twitter background to a picture of TLC topless and then issued a stunning series of subtweets:
G/O Media may get a commission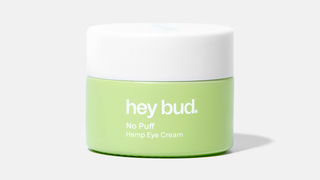 15% off
Hey Bud - No Puff Hemp Eye Cream
Tbh I don't know why anyone would side with Instagram in the ongoing Instagram vs. Rihanna Free The Nipple feud. [ONTD]
---
Jennifer Lopez and Casper Smart actually broke up two and a half months ago, so he was not actually cyber-cheating (or whatever the term is) by texting other women.
Unfortunately, the TMZ report quickly veers into the realm of transphobia: "The idea that [Casper] was knowingly texting a transsexual is laughable," says a source. LAUGHABLE? ARE WE REALLY GOING TO SAY THAT? [TMZ]
---
In more positive news, Justin Timberlake and Aaron Paul publicly planned a pizza party. The exchange included Aaron Paul stating, "Can I be honest? I think I may love pizza in an emotional way" and JT responding, "#Pizza4Ever." Be still, my heating heart (beating because of pizza). [Pop Sugar]
---
Apparently Leonardo DiCaprio recently went to a party (FRANKIE FROM THE HILLS' BIRTHDAY, TO BE EXACT), and he realized it was being filmed for Keeping Up With the Kardashians so he refused to go in until the filming was over. Hopefully this means the producers will just splice in that footage of him dancing to MGMT at Coachella. [DListed]
Here's Kim Kardashian's new signature. She wrote it on a plate. [E!]
Beyoncé and Solange both wore hot pink last night. WHAT DOES IT MEAN? [E!]
Lupita Nyong'o Instagrammed her first paparazzi stakeout/looked v. perfect at the beach. [Instagram]
The Eye of Sauron stepped out in outer space, flaunting its fiery gaze. [HuffPo]
Here is the blurriest picture ever of Jake Gyllenhaal and Rachel McAdams eating dinner together (they are shooting a movie together). I think Jake Gyllenhaal is wearing sweatpants, which I respect and support. [Just Jared]
Blake Lively talked about normcore, in case you were looking for proof that hell is for real. [The Cut]
Kim Kardashian and Hillary Duff go to the same parenting class in Beverly Hills. I wonder what they talk about. Probably Lizzie McGuire. [ONTD]
Lupe Fiasco wonders if Justin Bieber will get the "Donald Sterling treatment following his leaked n-word videos. " Seems extremely unlikely.
Evan Rachel Wood has been sued for over $30 million dollars for refusing to continue working on an indie comedy titled "10 Things I Hate About Life." [Variety]