Now in its third season, Netflix's Unbreakable Kimmy Schimdt is closer than ever to fulfilling its destiny of becoming, rightfully, The Titus Andromedon Show, with the always captivating and charming Tituss Burgess claiming more and more screen time and the storyline of Ellie Kemper's Kimmy fading into the background.

For example, in Season 3 (which debuted Friday), Kimmy decides to go to college—a decision all too reminiscent of the one that brought her back to high school when Kimmy Schmidt first began. Since the last time we saw Titus, on the other hand, he has endured an unspeakably traumatic cruise ship experience that may or may not have ended with him eating a fellow passenger, an incident he's forced to reckon with throughout the season. Quickly forgetting about Dong, the boyfriend Kimmy accidentally got deported, in this season she moves onto a new love interest (the cute but ultimately underwhelming Daveed Diggs). But even in romance, Titus steals the show by Lemonade-ing through the streets of East Dogmouth after learning that his doofy, sweet construction worker boyfriend Mikey might be cheating on him.
Understandably, it's hard to let Kimmy grow when the show's concept is based entirely around her naïveté and unflinching optimism. Kimmy Schmidt's core question will always be "Will Kimmy move on after what happened in the bunker?" As the show continues, it would be nice to see that question answered by letting her grow up a little rather than having her mysteriously digress from inexperienced-but-tenacious newcomer to idiot who distrusts the weatherman and doesn't know what college is. Character evolution doesn't mean that Kimmy has to lose her spark and joie de vivre. One of the best episodes of the season—"Kimmy Is a Feminist!"—ends with her acceptance that she won't be able to (and doesn't necessarily want to) recapture all parts of her lost adolescence. The realization does not come at the cost of jokes—we still get to see her struggle to understand identity politics and "seventh-wave feminism" at a nightmarish Columbia University dorm party, but we also don't have to leave the episode assuming that Kimmy is a happy-go-lucky idiot who will forever remain in stasis.
Titus, on the other hand, is evolving rapidly. He learns about work ethic by humbling himself in front of his nemesis, learns about selflessness by putting his boyfriend's needs ahead of his own, and learns about friendship by admitting that Kimmy has made him a better person. And even with all that character development, he still remains the funniest part of Kimmy Schmidt. (Closely followed by Maya Rudolph's portrayal of Dionne Warwick.)
The plot lines for the rest of the core ensemble, Lillian (Carol Kane) and Jacqueline (Jane Krakowski), drag throughout the new season, but—fortunately for fans like me—there's enough of what's become Unbreakable Kimmy Schmidt creators Tina Fey and Robert Carlock's patented humor (and amazing throwaway lines) to keep the show not only watchable, but also highly enjoyable. This writing team excels at weirdness peppered with underlying darkness—this season, Kimmy directly refers to Jon Hamm's character Rev. Richard Wayne Gary Wayne as a rapist—and it's that element, along with Burgess's performance, that keeps the show clipping along even when the plot falters.
G/O Media may get a commission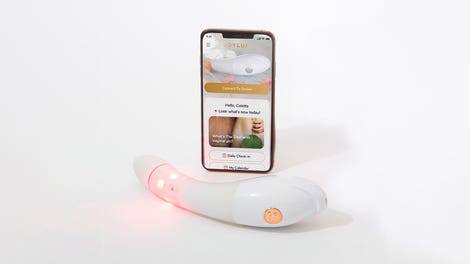 $50 Off
Joylux vFit Gold Device
If Season 3 is any indication that Titus has become the show's main protagonist, I embrace the change willingly, but not without some regret: Unbreakable Kimmy Schmidt began with the tagline "Females are strong as hell!" and the show's best episodes, historically and recently, are the ones that remind us of Kimmy's strength and resourcefulness. She can be a sidekick, but let her be a bright one.