If you've been following the Hadid sisters lately you might have noticed something up with their eyewear. Mainly, their glasses are too damn small.
VERY TINY GIGI, NON?
But actually Bella Hadid is an even worse offender:
And they've gotten Kendall Jenner in on it too:
G/O Media may get a commission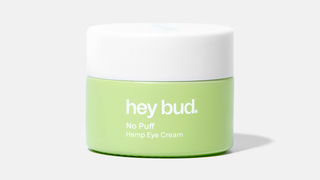 15% off
Hey Bud - No Puff Hemp Eye Cream
I'm so very, very sorry but these glasses are becoming "a thing," as our Culture Editor Julianne notes that tiny Selima Optique glasses are now at the V-Files store.
I know what you're thinking: Hazel, these glasses are just too tiny. They are ugly and will not shield my eyes from the blaring sun. Kendall and Bella and Gigi might be able to pull these off, because they are supermodels, but I can't.
And I say, well, you can pull them off because you will have to. I am preparing you for the day that you walk into Forever 21 in the near-future, looking innocently for a pair of sunglasses, and all you can find are doll frames.
YOU WILL HAVE TO SUBMIT TO THE TINY GLASSES
But it's going to be OKAY because tiny sunglasses are not just our future, they are also our past.
When Ben Franklin invented the bifocals what did he do? He made them insanely, laughably tiny. Why? Because he was a troll and loved fashion.
YES, that is a photo of Orson Welles as Ben Franklin but we swear that's what his bifocals looked like, we would NOT lie to you about something as important as sunglasses trends.
Britney Spears also loved tiny glasses in the early 2000s:
Then there's Diane Keaton, iconic mini-glasses wearer:
Tyler, the Creator has always been repping the tiny sunglass lifestyle.
And who could forget Nicole Kidman in Eyes Wide Shut, wearing those teeny wire prop frames perched on her nose?
In a year from now, or honestly maybe by August, when we're all wearing our miniature frames, will we all look like Neo from The Matrix?
Yes, we will, but that's fashion.