Tinder CEO and cofounder Sean Rad was recently profiled in the Evening Standard. It's very funny!
Sean Rad was named in a high-profile sexual harassment suit filed against the company in 2014 by co-founder Whitney Wolfe, and briefly stepped down as CEO before being reinstated. Rad is still BFFs with co-founder Justin Mateen— whose abusive texts and behavior towards Wolfe, his ex, permanently cost him his job—and the pair recently bought matching black military-grade $115,000 Mercedes G Glass wagons.
Rad used to want to be a "rock star," but really, what is more rock'n'roll than dominating the tech world and making bucketloads of money and wearing tight shirts and starting an art collection?
He tells me he was thrilled that his audience at the recent Web Summit in Dublin was "bigger than Instagram's" and full of "screaming" fans. "It was like a concert," he says. "Tech, I guess, is more important than it was. It's like the new rock."
Rad is "addicted" to Tinder but come on, he is not a playboy! "I do not condone penis pictures — that is just NOT who I am," he informs his interviewer.
He's been in four relationships and "I loved them all". (One was Alexa Dell, of the billionaire computing family, who he met on Tinder.)
G/O Media may get a commission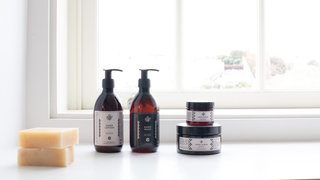 Exfoliate and Hydrate
The Handmade Soap Company
He even, on occasion, turns down sex with hot women because honestly, despite what his dating app that he created might imply, looks aren't everything and also did you hear that Tinder will now feature education and workplace info so you can hook up with your socioeconomic equal?
He's desperate to impress on me how gallant he is, citing the fact that a "supermodel, someone really, really famous" has been "begging" him for sex "and I've been like, no". She's "taunted" him, he says, and "called me a prude".

"She's one of the most beautiful women I've ever seen but it doesn't mean that I want to rip her clothes off and have sex with her. Attraction is nuanced. I've been attracted to women who are ..." he pauses "... well, who my friends might think are ugly. I don't care if someone is a model. Really. It sounds clichéd and almost totally unbelievable for a guy to say this, but it's true. I need an intellectual challenge."
And then:

He continues: "Apparently there's a term for someone who gets turned on by intellectual stuff. You know, just talking. What's the word?" His face creases the effort of trying to remember. "I want to say 'sodomy'?"

:) :) :)
---
Contact the author at ellie@jezebel.com.
Image via Getty.