The resurgence of Juicy Couture could not have come at a better time—not because we're actively hankering for the early '00s, but because if America is indeed barreling towards its inevitable end, at the very least we should be cozy while it happens.

Well—there is a certain amount of nostalgia involved here, in this new campaign Tinashe did for a forthcoming, limited run of Juicy Couture for Urban Outfitters, which seems to be digging up all the old (and old-person) faves. The soft Xanadu backlighting, the active and dreamy dance-stances, the liquid gleam of lip gloss, so shiny and new your carefully compiled collection of matte lipsticks are cowering in its presence. These shots are composed to capitalize on the feel of flipping through back issues of Vibe or Honey, that optimistic richness that saturated the start of the new millennium. That aesthetic was always giving us a fantasy, but maybe now its resonance is the illusion that everything is gonna be all right.
Urban Outfitters's resurrection is also particularly savvy given the way Vetements caught on to and exploited the early '00s nostalgia wave and incorporated Juicy into its Spring 2017 line, which should be hitting stores just about the time this capsule lands in UO. The thinking is very likely that Urban Outfitters fans are into high fashion but definitely cannot afford Vetements (leave that to Rihanna and wealthy trendhumpers) so here they are yet again, rebranded as a hipster staple rather than the shit Paris Hilton wore back when she was still friends with that no-name Kim Kardashian.
G/O Media may get a commission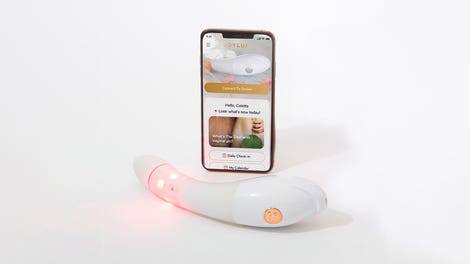 $50 Off
Joylux vFit Gold Device
(FUCK IF, however, YOU WILL FIND ME IN STIRRUP PANTS.)

They're bringing back the velour, my friends. This is launching on February 13 and sounds more affordable to me now ($39-199) than Juicy ever did when it was popular the first time around (it was aspirational, I was much younger then) but I guess that's relative. Still, I've been wearing black velour H&M sweats from back then this whole damn time, because not only am I prescient, I am your mother.