Twenty-two is a really important age for a woman: far enough off from teenhood that it feels grown, new enough to adulthood that self-actualization is a prospect of excitement and fear, like when your stomach starts to drop in airplane turbulence. Some emotions are new; even newer is how confidence cements them there. Thoughts that were inchoate and worrisome become solid and strong-willed. Strides are taller.
Tinashe dropped Amethyst, her fifth solo release, on Monday. But its true epoch is squarely in 22, the age the LA pop-R&B star turned in February, and not just because she named it for her own birthstone. It's clear that the months since the release of her chart-topping debut, Aquarius, have ushered along and reinforced her confidence—into 22 and well past it. Even "2 On," her platinum reverie to getting twisted with your girls (and having the agency to do so), now seems a little bit juvenile, a little bit regressive.
It's not that Amethyst doesn't have hits, though: it just better shows what Tinashe can do when she blends the experimentalist elbow-room of her pre-Aquarius mixtapes with the polish and practice of a person who's seen the inner chamber of a Billboard chart. There's an ease and intellect, a fortitude and freedom. She spit-shines Quiet Storm with the candied lacquer of her generation, giving g-funk tropes a shot of feminine, you-ain't-shit attitude. It's really invigorating: She slides into current masculinist rap poses with a tweetie-bird voice, and it's not so pat or basic as "flipping the gender script." It's more like she's saying, hey look, these pants fit me, too. With Amethyst, lyrics of firecracker surety abound, all delivered in her slinky, seat-back-easy alto: "I'm so focused, I'm focused"; "Oooh, I'm just like you."
Or, "The future is mine," she sings, staking her claim in confidence and ad-libbing like a rapper, imbued with the bluster of Jeezy or Future. On "Looking 4 It," she squeals, "you ain't Tupac, bitch!"—clowning her own line comparing herself to 'Pac. But why not? Let Tinashe be Tupac, if she feels like it.
Even the leftward lean of "Just Like You," whose synths oscillate seductively, as though they are slouched against the wall, Tinashe retains the locus of control simply by the strength of her voice. The truth is she is just so much better without the constraints of a label, without the demands of a single, when she can just riff. Aquarius was great, but Amethyst quakes with promise.
G/O Media may get a commission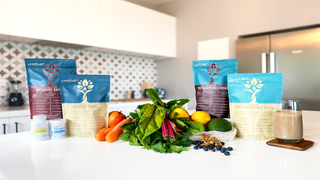 On "Wrong," Tinashe moans, "I'm still in love with youuuu" over a sample of Kool & the Gang's "Summer Madness," borrowing it back from the Fresh Prince from Philly and re-centering it in Cali. Cali is certainly where it belongs, amid ghosts of donks pumping out Dre when Tinashe was just a baby.
Truthfully, Tinashe and her West Coast peers capture a snapshot of LA life that hasn't been so saliently leveraged since those perfect days of Death Row. Of course it's because there's so much excellent talent in LA right now it's barely fathomable, but also because the language with which these artists are painting their city is romantic, real, halcyon, deadly, full spectrum, and cohesive in a way that materializes the warm sense of place that seems to have shaped them. (This is felt even by cold-ass, jaded-ass New Yorkers like me. I have spent the last two summers walking around the city, compulsively listening to new Ty Dolla $ign, and if he doesn't drop a new album by June, I will vote secession for the state of California.)
With all this self-assured awareness of place and self, though, Amethyst shows Tinashe's best songs are the introspective ones, where the production is a tiny bit claustrophobic—and that even the baby-new strength of 22 can't mitigate the itinerant emotions and bullshit that come with it. Most dudes, at 22, are not really on our level. On "Lookin 4 It," Tinashe doesn't bemoan her own limitations for dating the wrong men and "lookin for love in all the wrong places," but actually celebrates them. The song sounds like she's creeping through pink-lit clubs, eyeing only the baddest dudes.
Later, "Worth It" gives her suitors deeper consideration, after she peeps her dream guy on an "ordinary Monday, lunch with Alicia" as he puts quarters in a parking meter. This is Amethyst's sub-theme, but it's also what makes Tinashe one of R&B's most vital: as she navigates the valleys of young love, she finds her own strength within it.
Image via Tinashe/Sony Music
---
Contact the author at julianne@jezebel.com.