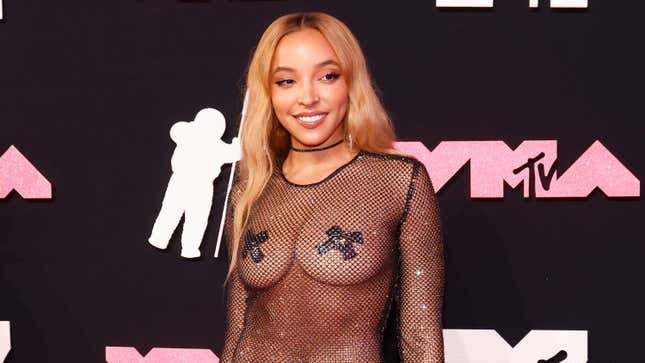 This week, Tinashe revealed that she felt forced by her former record label to collaborate with convicted sexual predator, R. Kelly, at the outset of her career.

In a new interview with DJ Zach Sang, the singer-songwriter addressed "Let's Be Real Now"—the 2015 song in which R. Kelly appears—for the first time. According to Tinashe, working with Kelly (who was also repped by RCA at the time) was a part of her former label's strategy to put her on the map when she was first starting out.
"You think I wanted [to do those songs]?" Tinashe asked Sang. "I literally block out that R. Kelly song from my mind—forget that it even exists. That is so embarrassing. That is so unreal that I even have a song with R. Kelly." Understandable!
The collaboration with Tinashe is only one of many Kelly managed to have at that time. The same year "Let's Be Real Now" was released, Kelly also worked with Lil Wayne, Ty Dolla $ign, and Jeremih. I'll note that 2015 also happened to be the year Kelly was asked by a journalist on live television about the scores of sexual abuse allegations against him for the first time. He responded by storming off.
Tinashe's collaboration with Kelly garnered swift backlash but she now insists it wasn't in her control as a young artist: "I was so young too, which is crazy because I feel like I did that song when I just signed to that label… I was probably like 20."
Among the other artists who've publicly expressed regret for working with Kelly are Lady Gaga, Chance the Rapper, and Common.
Tinashe also spoke candidly about being pushed to work with Chris Brown (also on RCA's roster), who's been accused of abuse by multiple women in the last decade.

"Like for example that song with Chris, that was a song that…we all wanted it to be this big moment, this big single," she explained of their 2015 song, "Player." "So I feel like in [the label's] mind, they were like 'You need the support.' And [Chris] was like their biggest artist that they had on rhythmic radio at the time."
Unlike the collaboration with Kelly though, Tinashe recalled that she tried to speak up: "I was like, 'Well, this is a pop song so I really don't feel like we should put Chris on it like that. I don't like that. That doesn't compute to me.'" Of course, her alleged protests were for naught and the song went forward. As of now, RCA has yet to respond to Tinashe's claims.
It's hardly a surprise to learn that yet another female artist is asked by a label to compromise their integrity and cash in, but in these particular instances, it does feel considerably gross. Cheers to her for signing with Roc Nation!