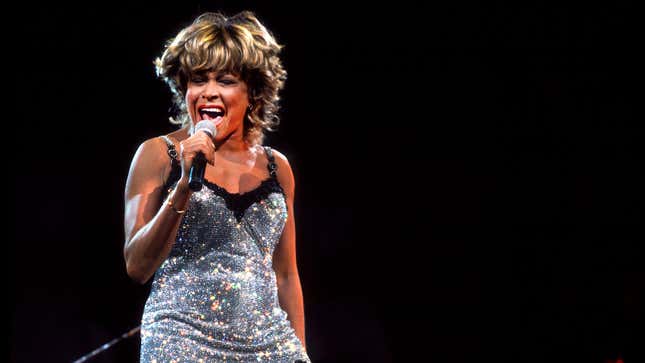 The world has lost another icon. Tina Turner, whose electric performances were a jolt to the art of music and who went on to redefine the career comeback in her 40s, died Wednesday at the age of 83. Turner's family released the following statement about her passing via Rolling Stone:
Tina Turner, the 'Queen of Rock'n Roll' has died peacefully today at the age of 83 after a long illness in her home in Küsnacht near Zurich, Switzerland. With her, the world loses a music legend and a role model.
Dirt Bag of the Week: Katharine McPhee
As chronicled in the books, movies, and stage show about her life, Turner (born Anna Mae Bullock in Brownsville, Tennessee) rose to fame in her early 20s alongside rock and role progenitor and her future husband/abuser Ike Turner. Their debut 1960 single as Ike & Tina Turner, "A Fool in Love," went Top 40 on the pop charts. They gained steam as live performers with the Ike & Tina Turner Revue, which played what was known as the Chitlin' Circuit. The pair's biggest success on the U.S. pop charts was their 1971 cover of Creedence Clearwater Revival's "Proud Mary." Their collaboration with Phil Spector, "River Deep/Mountain High" was huge in some countries overseas, particularly the UK, and its legacy in the U.S. has defied its relatively low chart peak (No. 88 on the Billboard Hot 100).
Tina Turner split with Ike in 1976 in a heroic escape that required her crossing of a highway on foot. Her career soared to new heights in the '80s with her Private Dancer album, which spawned several hits, including the title track and the Balearic and creepy smash "What's Love Got to Do With It," which hit No. 1 on the Billboard Hot 100.
With her Private Dancer era, Turner, an already respected husky-voiced musician and renowned performer, ascended to megastardom. Along with the likes of Michael Jackson, Prince, Madonna, and George Michael, she was one of '80s pop's true icons, full stop. She would eventually sell some 100 million records worldwide and play to a record-breaking crowd of 180,000 at Estadio do Maracana in Rio de Janeiro in 1988, a performance that was immortalized in the concert film Tina Turner: Rio '88.
Turner, along with Ike, was the first Black artist to be featured on the cover of Rolling Stone, was twice inducted into the Rock and Roll Hall of Fame (alongside Ike in 1991 and as a solo artist in 2021), and won 12 Grammys. The list goes on for an artist of her stature, one who spent decades as a living legend.
Tina Turner was also well known for telling her story, including surviving her ex's horrific abuse. She first did so in a 1981 People magazine profile, and though she had misgivings about sharing so much of herself, she'd go on to do it several more times, including in her bestselling memoir, 1986's I, Tina. Turner said that she couldn't stomach sitting through the Oscar-nominated 1993 film adaptation of that book, What's Love Got to Do With It. The 2021 HBO documentary Tina took a meta approach to telling Turner's story (and, effectively, her telling of her telling of it). In it, Turner said that she believed that by sharing her truth with People, she'd be able to fully abandon her past—what actually occurred is that her subsequent career was somewhat defined by it. It came up again and again. Her story of her survival and her public profile were inextricably bound, much to Turner's chagrin. One of that documentary's directors, T.J. Martin, recalled to Jezebel Turner's words during their first meeting: "There's been a book, a movie, and a musical. What the hell are we going to do a documentary for?" That reluctance turned out to be one of the doc's primary points of focus.
A final scene in the doc depicts Turner attending the premiere of Broadway's Tina: The Tina Turner Musical. In an interview, Turner reflects, "Some people say the life that I lived and the performances that I gave, the appreciation is blasting with the people. And yeah, I should be proud of that—I am—but when do you stop being proud? How do you bow out slowly, just go away?" Her husband Erwin Bach recalls Turner telling him that her trip to New York for the premiere would be her way of saying goodbye to her American fans. "I think this documentary here and the play, this is it. It's a closure, a closure," he said.
He was, sadly, correct. But how many people get to put such a lovely bow on their legacy, bowing out precisely on their terms? That's a real queen for you.