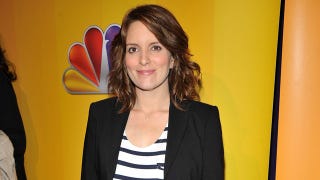 Tina Fey and husband Jeff Richmond welcomed their second child, daughter Penelope Athena, on Wednesday.
The couple also has a 5-year-old daughter named Alice, who judging by this photo alone will probably be the best big sister of all time.
Joy Behar married longtime boyfriend, Steve Janowitz, on Thursday in New York.
Behar and Janowitz have been a couple since the early 1980s (!!!) and she often referred to him as her "spousal equivalent."
"I'm getting my own talk show on HLN, so I don't have to get married anymore," she joked at the Friars Club back in June 2009, according to the New York Daily News.

"Actually, I got cold feet again, so I don't know what I'm going to do," she added, at the time. "It's off the table. What'll happen is, when I decide to do it, I'll do it, and then everybody will know I did it. I can't make up my mind."

When Behar does discuss her decision to finally walk down the aisle, she'll do so on what will be the fifteenth season premiere of "The View."